Pushing lead and trial data to ChartMogul from your customer relationship management (CRM) software enables you to track metrics such as Leads and Trial-to-Paid Conversion Rate. Use Zapier to automatically send leads and trials to ChartMogul from HubSpot.
Here's what we cover in this article:
Resources and further reading:
Before you begin
Step 1 — Set up a trigger
Within Zapier, click Create Zap.
Choose HubSpot as your trigger, and select New Contact as the event. Click Continue.

Select your HubSpot account and click Continue.
Confirm the properties you'd like to retrieve with the trigger and click Continue.
Test the trigger to confirm it's working correctly.

Once successful, click Continue to complete setting up your Trigger.
Step 2 — Set up Formatter by Zapier
Choose Formatter by Zapier as your app, and select Date / Time as the event. Click Continue.

Within Set up action enter the following details, then click Continue:

Transform — select Format
Values — select Created At as the input.
To Format — select YYYY-MM-DD (2006-01-22).
To Timezone — UTC (default)
From Format — select X (1137971045).
From Timezone — UTC (default)

Then Test action. If successful, a date/time transform will be sent to Formatter by Zapier.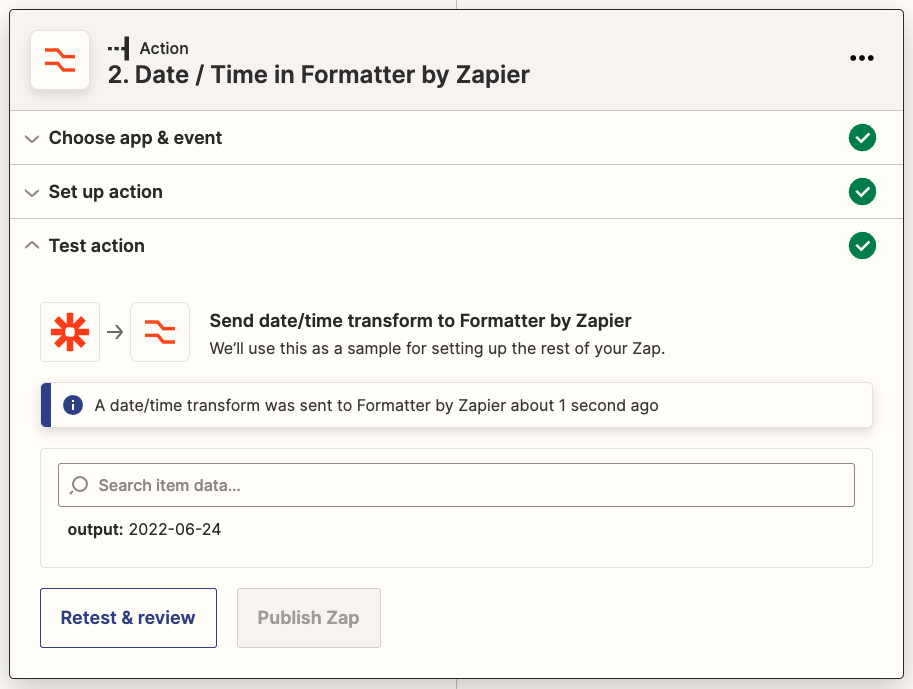 Step 3 — Set up Webhooks by Zapier
Click + to add an action. Choose for Webhooks by Zapier as your app, and select POST as the event. Click Continue.

To set up the action, enter the following details:

URL —

https://api.chartmogul.com/v1/import/customers

Payload Type — json
Add the following Data fields:

name — Contact information: First Name, Contact information: Last Name
email — Contact information: Email
lead_created_date — Created At
free_trial_started_at — Created At, or choose the formatted date field that best suits your needs. This can include custom fields you've created as long as the value is a date. To format any additional dates you would like to use, you may need to add an additional action using the Formatter by Zapier app.
external_id — Contact information: Email
data_source_uuid — find your UUID by navigating to Data Platform > Data Sources > and selecting

Settings for the data source you want to use.


Do not change the Wrap Request In Array, File, and Unflatten fields from their default values.
Enter your API key twice in the Basic Auth field separated by the pipe character (|). For example, if your API key is 123, you would enter 123|123 in this field.
In the Headers field, enter Content-Type as the key and application/json as the value. Click Continue.


Then, test the action.

If the test is successful, click Publish Zap, then Publish & Turn On. The Zap will import new leads and trial HubSpot accounts into your ChartMogul account.
When a customer converts from a free trial to a paying customer, a duplicate customer record will be created in ChartMogul from your billing system. When this happens, we recommend
merging the trial customer record with the new customer record
. You need to complete this step to report trial to paid conversion rates.
We'd love to hear how you use Zapier. Write to us at platform@chartmogul.com to share feedback and ideas for integrations.