You must have an Admin or Owner ChartMogul account to access your data settings in order to modify your churn recognition options. Read more about User Permissions.
There are two churn recognition options available for all ChartMogul customers and one specific to Recurly.
Under Data Platform > Data settings > Subscription Analytics, there is a set of options titled "Churn recognition".
Always recognize cancellations as churn at the end of the paid-up billing period

Churn will always happen at the end of the current paid-up subscription billing period, even if the subscription is canceled immediately in your billing system. This is often considered good practice for MRR reporting. One side effect (and a potential benefit) is that your MRR will usually appear to be higher with this setting.

Always recognize cancellations as churn at the time of cancellation

Churn will always happen in ChartMogul at the time the subscription is canceled/expired in your billing system. This gives you a more real-time view of your forward-looking MRR and is closer to the concept of Committed Monthly Recurring Revenue (CMRR).
Here's an illustration of how these options will affect the date on which your customers will be reported churned.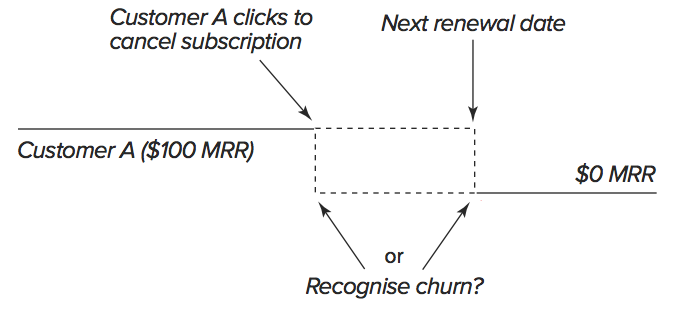 If you set a subscription to cancel at the end of the period, or on a specific date in the future, then ChartMogul will still recognize the cancellation when it actually happens (in the future) in your billing system, not the date when you configured the schedule.
Churn subscriptions at the time when the cancellation event is triggered/clicked, regardless if the subscription is set to cancel immediately or cancel/not renew at the end of the billing period

This option applies to data imported from Recurly only. For data from other data sources, cancellations will be recognized as churn at the time of cancellation.
If you alter the churn recognition setting, the change in how ChartMogul recognizes churn in your account will only be reflected going forwards. You will need to re-import your data to make the behavior consistent historically and going forwards.
The churn recognition setting applies to all integrations except for the following:
Google Play integration (via the daily sales report)

App Store Connect integration
The integrations above will always recognize cancellations at the end of the service period due to limitations from each system.