There are a number of ways to export your data from the ChartMogul App. Additionally, you can also export your accounts data using the Google Sheets App or the Metrics API.
Note: Only users who are admins or the owner are able to export data. You can learn more about user roles here.
ChartMogul App
The ChartMogul web application allows you to export a variety of data points to a CSV file. You can:
Export a charts data table. You can export graph-specific data by clicking EXPORT CSV at the top right of any data table below a chart.

Export your cash flow in detail. You can generate a detailed cash flow export from all the cash flow charts by clicking on DETAILED EXPORT (CSV).

Export CSVs through Data Platform. You can export data in a few ways from the Data Output tab of Data Platform:

Google Sheets App
Our Google Sheets App enables you to export customers and metrics to a Google Sheet.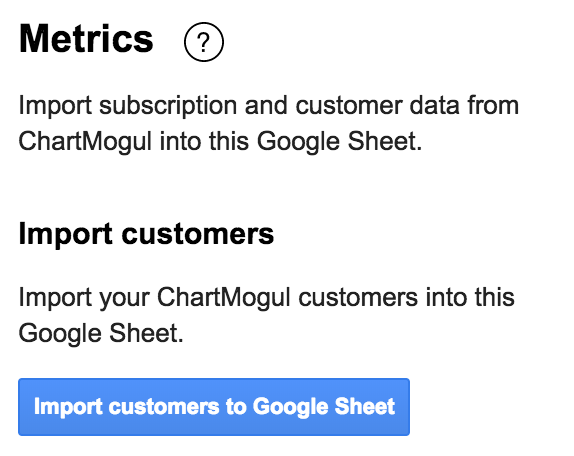 Metrics API
The ChartMogul Metrics API gives you access to all the subscription metrics from your ChartMogul account. Please view the documentation here.
You can use the ChartMogul Metrics API to export all of the metrics in your ChartMogul account, for example, graph-specific data and customer-specific data. By tailoring your requests, you can easily segment your data to receive metrics from different geographies, time periods, dates and plans.

You can also read on more information about exporting your data in this section of our help center.