ChartMogul provides numerous ways to export metrics and data, depending on the type and format of the information you need. We've organized the information here based on the type of information you'd like to export:
Resources and further reading:
Cohorts
Export cohort tables to CSV. Learn more about cohort analysis, including how to export an analysis.
Customers and Custom Attributes
Destinations
Export customers, custom attributes, and tags to a destination. Learn more about destinations.
Export to CSV
Export data for all customers by going to Customers and selecting Export (CSV) above the customer table. Alternatively, export a customer list by selecting the list and clicking Export (CSV).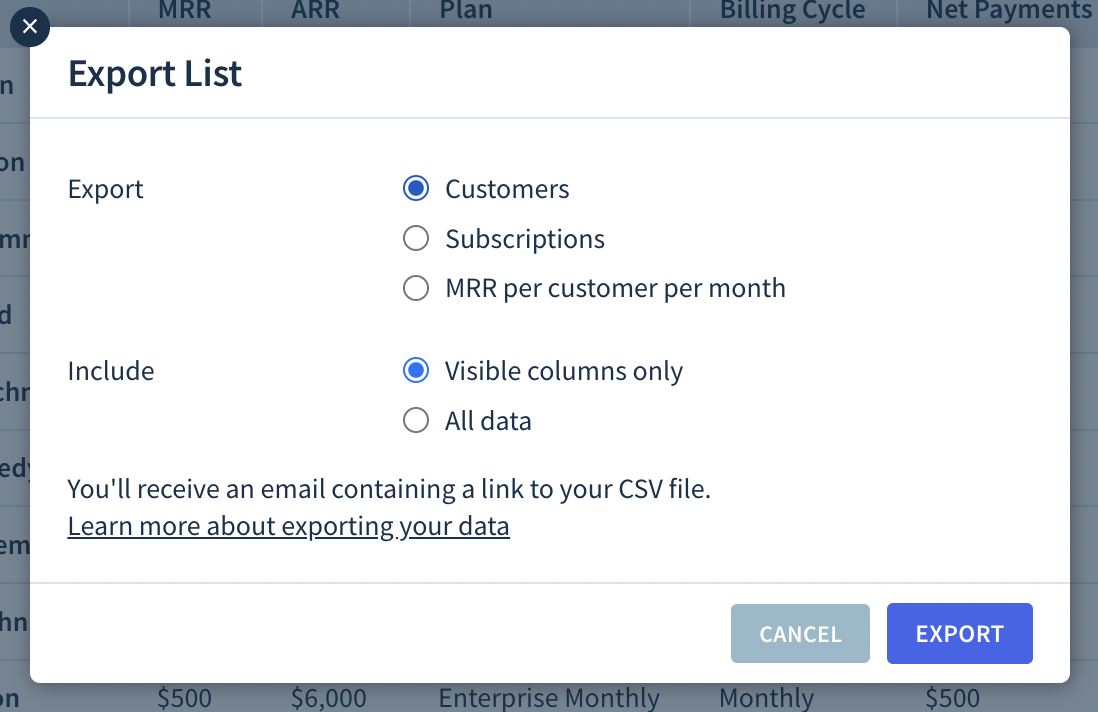 There are three customer–related datasets you can export to CSV:
Customers — the current customer table, with an option to export Visible columns only or All data.
Subscriptions — all subscriptions data, including plan, MRR, start date, status, and more.
MRR per customer per month — customers with MRR by month.
Learn more about exporting customers, subscriptions, and MRR per customer per month.
Export to Google Sheets
Export customer record data, including Customer Details, Tags, and Custom Attributes, to a Google Sheet. Learn more.
MRR Movements
ChartMogul generates an MRR movement for each change to a subscription that increases or decreases the subscription's calculated MRR. Learn more about MRR movements.
Export all MRR movements to a CSV by navigating to Data Platform > Exports.
Chart Data
For charts with a Chart Data table that includes MRR movements grouped by type, export the data by clicking EXPORT (CSV).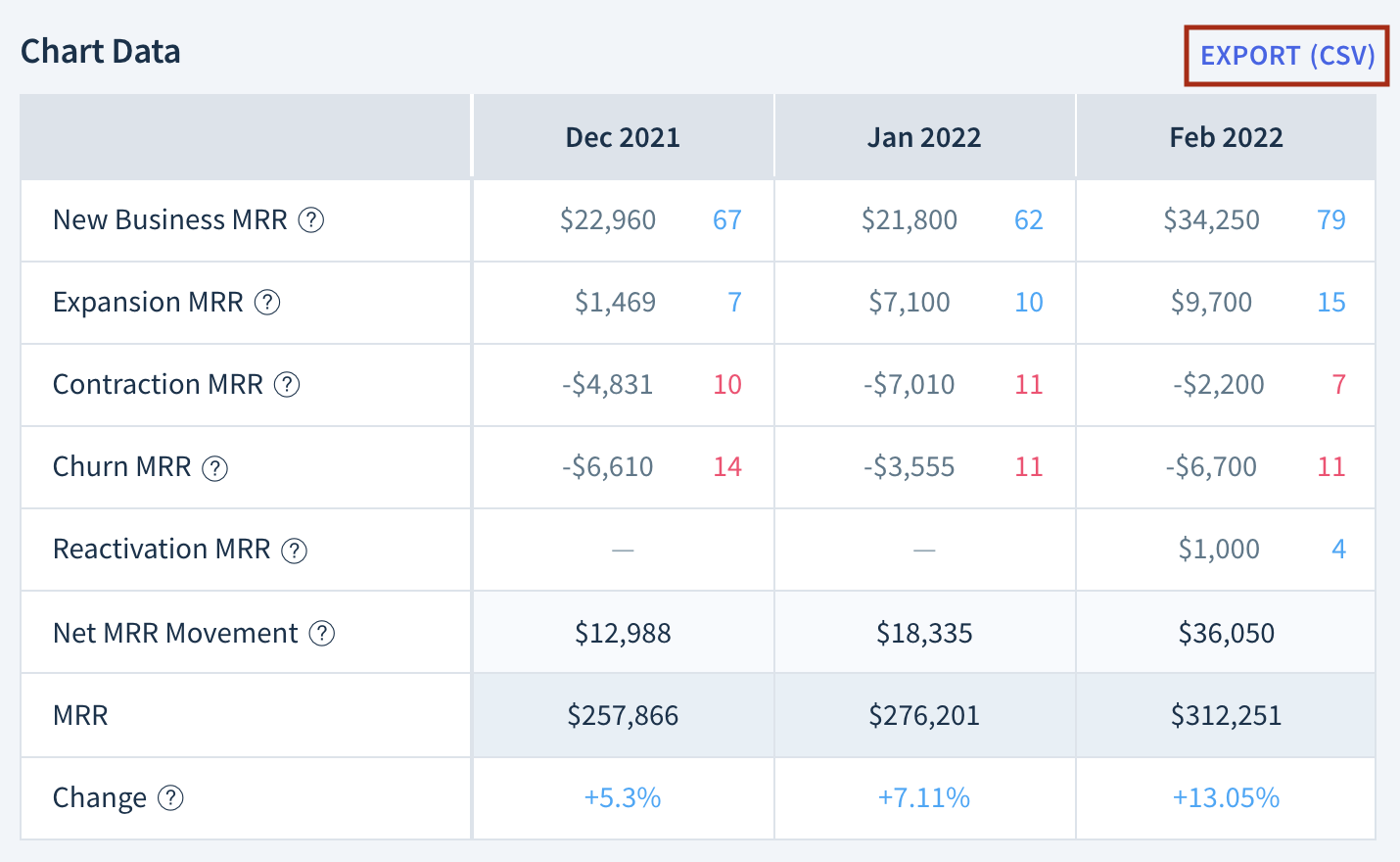 Destinations
Export MRR movements to a destination or webhooks.
Activity
View a list of subscription activities that contributed to an MRR movement type with the Activity table. Then, export them by selecting EXPORT (CSV) from the following locations:
Chart Data — select the cell of an MRR movement type and month.
Cohorts — select any cell that has a change from the previous value.
Maps — select the cell of an MRR movement type.
Subscription Metrics
Download Image
Download charts as customizable images. Click from any chart.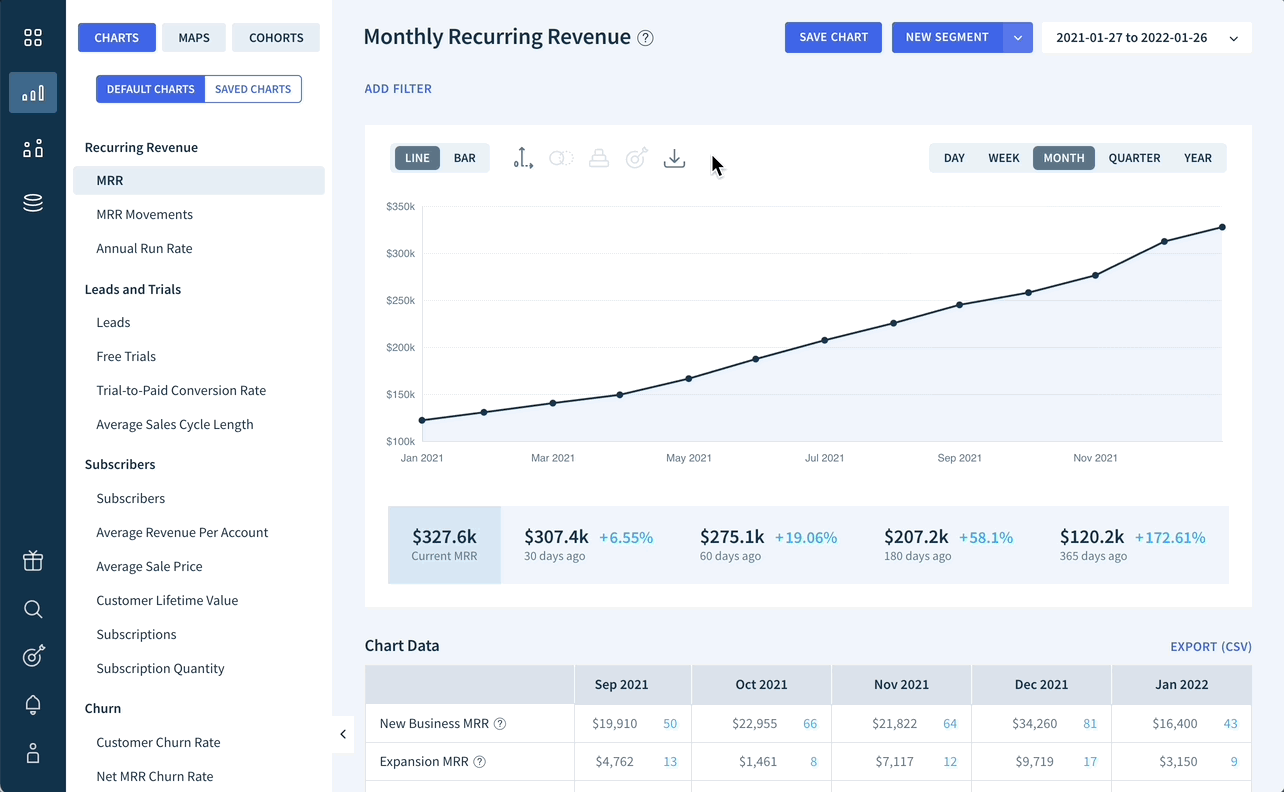 Google Sheets
Export key subscription metrics using the Google Sheets app.
Metrics API
Retrieve subscription metrics using our Metrics API.
Transactions and cash flow
Detailed Export
The Detailed Export CSV details the individual line items from all paid invoices in a given period.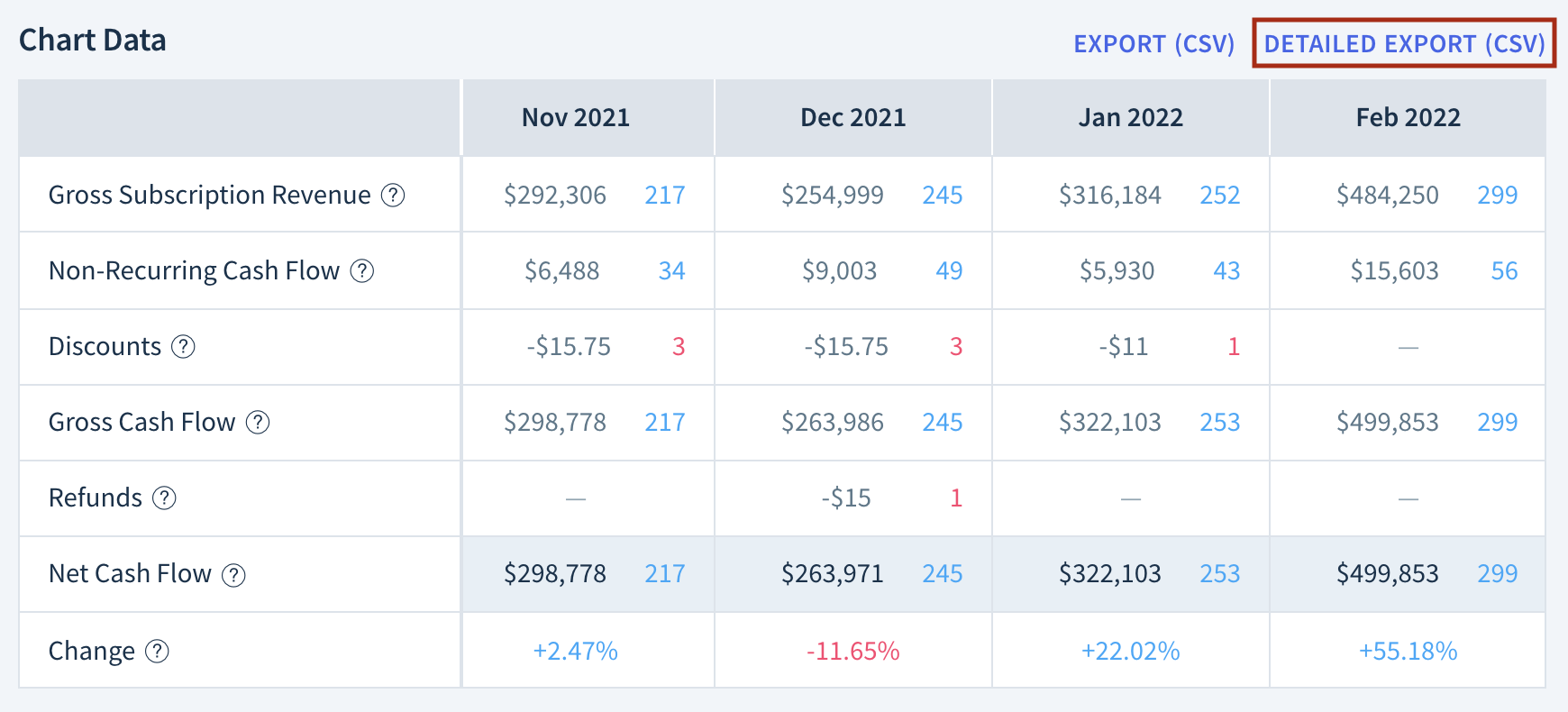 Click Detailed Export (CSV) to download this report from the following charts: