Custom Attributes are data points that you use to filter and segment customers. They can be metrics ChartMogul generates like MRR, tags that you add to customer profiles, or custom attributes you can add using Data Platform, Enrichment API, or Google Sheets app.

Tags and custom attributes are visible on customer profiles in ChartMogul.
Contents
Default attributes
The default attributes that are available for use with Segmentation are:
Plan — Filters customers based on the plans their subscriptions are currently on.
Plan at time of purchase — Filters customers based on the plans their subscriptions were initially started with.
Region — Customer's region based on their address.
MRR (Current) — Customer's current Monthly Recurring Revenue.
MRR (if cancelled uses MRR before churn) — Customer's current MRR, or their MRR at the time of the last cancellation.
Currency — Customer's billing currency.
Tags — Filters customers by their tags.
Data source — The data sourcethe customer is associated with.
Lead created at — The date a lead was created on.
Free trial started at — The date the free trial was initiated on.
Subscriber since — Date when the customer first converted to a paid subscriber.
Customer since — Date when the customer made their first paid transaction.
Trial to-paid in days — Numbers of days it took for a trial to convert to a paid account.
Has discount — Whether or not the customer currently has a discount/coupon.
Subscription quantity — Number of seats/licenses that the customer is subscribed to.
#of active subscriptions — Number of active subscriptions the customer has.
Last payment — Date on which the last payment was made by the customer.
Next payment — Date on which the next payment is due from the customer.
Subscription status — Status of the customer, e.g., Active, Past due, Cancelled, or Lead.
MRR expanded — Date on which the MRR of the customer increased.
MRRcontracted — Date on which the MRR of the customer decreased.
Churned — Date on which the customer cancelled.
Reactivated — Date on which the customer reactivated a previously cancelled subscription.
Didn't cancel within N days of purchase — Filters out customers who cancelled within N number of days from initial purchase.
Number of successful payments — Helps to identify customers who have made several successful purchases and may be candidates for loyalty-based segments.
Average order value — Filters customers by the average dollar amount spent on non-subscription payments.
Net payments — Filter all customers by the net payments made, including all subscription and non-subscription payments.
Attributes from Stripe metadata
If you've added Stripe as a data source, we automatically pull in any metadata that you add to your customers in your Stripe account.
Adding attributes using Zapier
Zapier is a platform that enables you to connect the services you use together, save time, and get more value from your data.
Our Zapier integration allows you to connect ChartMogul with 500+ apps like HubSpot, Pipedrive, Intercom, Close.io, and more. You can enrich your customer information with Sales, Marketing, and Customer Success metadata from the other services you use, allowing for rich segmentation features. You can get started by using one of our shared zaps or building your own.
Adding attributes using the Enrichment API
You can send custom attributes from any tool that you use for marketing, CRM, or even your own database.
For step-by-step instructions on how to push custom attributes to ChartMogul via the Enrichment API, please read this tutorial.
If you have suggestions for specific integrations or would like to tell us how you used our Enrichment API, we'd love to hear from you at support@chartmogul.com.
Adding attributes from a Google sheet
The ChartMogul Google Sheets app allows you to add attributes to your customers directly from Google Sheets.
Learn more about importing custom attributes from a Google Sheet.
Adding attributes via Data Platform
Custom attributes can be added in the Custom Attributes Manager. Go to Data Platform > Custom Attributes and click NEW CUSTOM ATTRIBUTE. Specify the Name and the Data type of the custom attribute.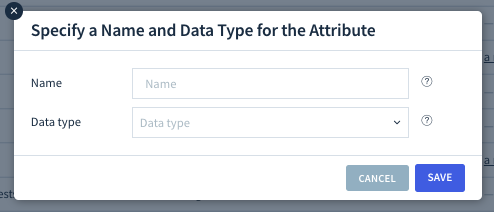 Valid characters for Name are letters from a-z, A-Z, the digits from 0 to 9, and the underscore (_). Select the Data type from the dropdown.
Data type
Description
Available filter operators
Example usages
String
a sequence of letters, numbers, or symbols

is
is not
contains
does not contain
is present
is not present

Account manager, Marketing campaign
Numeric
a number

equals
does not equal
is less than
is more than
is less than or equal to
is more than or equal to
is between
is present
is not present

NPS score, CSAT score, Number of emails opened, Number of site visits
Timestamp
a date and time

is on
is after
is before
is on or after
is on or before
is between
is present
is not present

First visit date, Date of support ticket, Date of upgrade from free plan
Boolean
a true or false condition

is true
is false
is present
is not present

Signed up for newsletter, Contacted support, Contacted regarding upsell
Editing attributes
You can edit an existing attribute from a customer's profile page by clicking on Edit next to the attribute you want to change.

Managing custom attributes
You'll need to be an
Admin
to manage custom attributes.
To manage your attributes navigate to Data platform > Custom attributes
In the attributes manager you can see the following data:
Name of attribute
Data type
# of customers using the attribute
When the attribute was last updated
Who updated the attribute last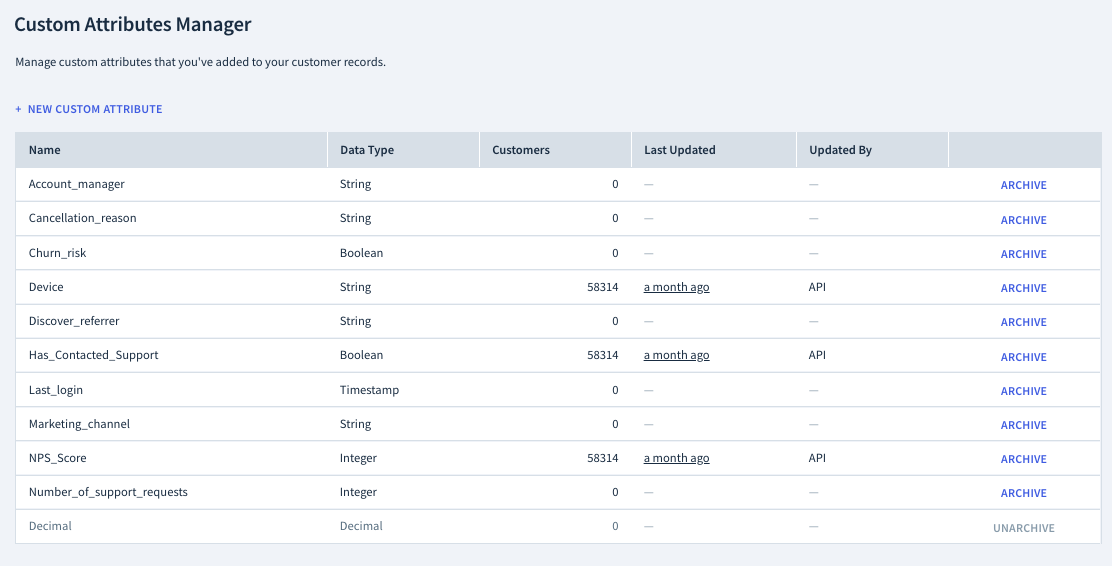 You can retire an attribute you don't want to use any longer by clicking on the Archive button on the right. This will remove the attribute from the customer profile page as well as the segmentation filter. Archived attributes will be moved to the bottom of the list.
You can revive a retired attribute by clicking on the Unarchive button.