Custom attributes are additional data points that you can add to your customers such as their last login, the marketing campaign used to acquire them, or the name of their account manager to help with filtering and segmentation.

Custom attributes are visible on customer profiles in ChartMogul.
Here's what we cover in this article:
Attributes from supported billing systems
If you use one of the following supported billing systems, ChartMogul automatically imports the following data as custom attributes.
Adding attributes using Zapier
Our Zapier integration allows you to connect ChartMogul with 500+ apps such as HubSpot, Pipedrive, Intercom, Close.io, and more. Enrich your customer information with metadata from other services you use, allowing for rich segmentation features. Get started by using one of our shared zaps or building your own.
Adding attributes using the Enrichment API
Send custom attributes from any tool that you use for marketing, customer relationship management, or even your own database using the Enrichment API.
If you have suggestions for specific integrations or would like to tell us how you used our Enrichment API, we'd love to hear.
Adding attributes from a Google sheet
The ChartMogul Google Sheets app allows you to add attributes to your customers directly from Google Sheets.
Learn more about importing custom attributes from a Google Sheet.
Adding attributes via Data Platform
Add custom attributes using the Custom Attributes Manager.
Navigate to Data Platform > Manage > Custom Attributes > NEW CUSTOM ATTRIBUTE.

Enter a name for the attribute. Valid characters are a-z, A-Z, 0-9, and underscore (_).
Select a Data type using the drop-down.
Click SAVE.
An attribute's Name and Data type are permanent and cannot be changed.
Data Types
Data type
Description
Available filter operators
Example usages
String
Sequence of letters, numbers, or symbols up to 255 characters in length.

is
is not
contains
does not contain
is present
is not present

Account manager, Marketing campaign
Numeric
Number

equals
does not equal
is less than
is more than
is less than or equal to
is more than or equal to
is between
is present
is not present

NPS score, CSAT score, Number of emails opened, Number of site visits
Timestamp
Date and time

is on
is after
is before
is on or after
is on or before
is between
is present
is not present

First visit date, Date of support ticket, Date of upgrade from free plan
Boolean
True or false condition

is true
is false
is present
is not present

Signed up for newsletter, Contacted support, Contacted regarding upsell
Editing attributes
Update a customer's attributes by navigating to their profile page and clicking Edit next to the attribute you want to change.

Managing custom attributes
You'll need to be a Staff, Admin, or Owner to manage custom attributes.
View and manage attributes by navigating to Data Platform > Manage > Custom Attributes.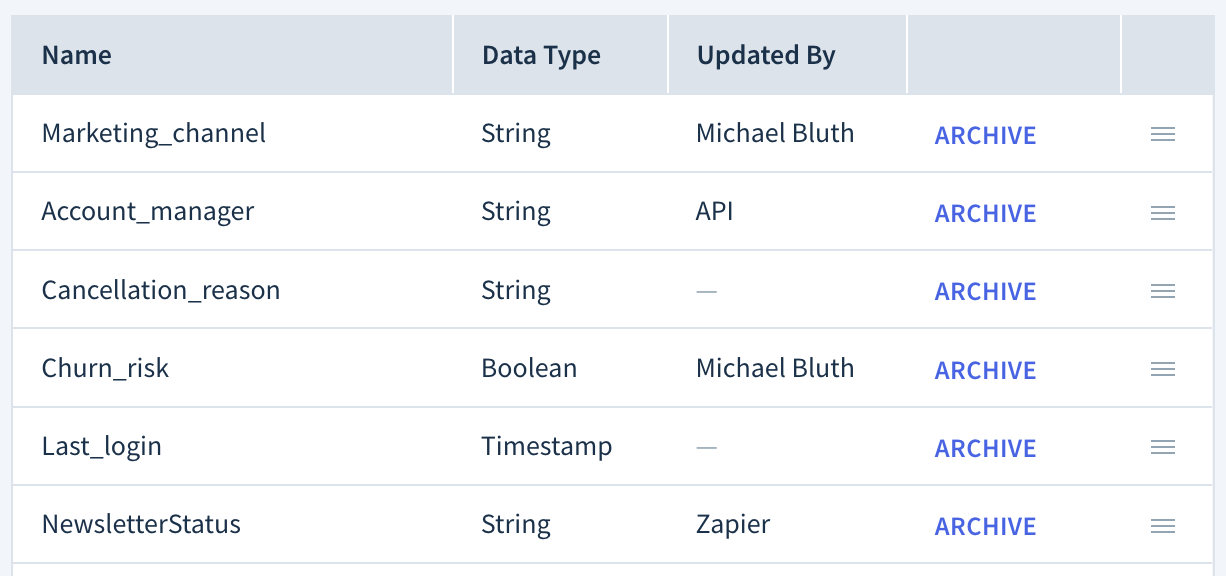 There, you'll find the Custom Attributes Manager table with the following details:
Name — the name displayed on the customer profile page and in the filter drop-downs
Data Type — the data type of the attribute, either String, Integer, Decimal, Timestamp, or Boolean
Updated By — the source that last used the attribute, either the name of a user or enrichment method (ex: API, Zapier)
The Custom Attributes Manager table can take up to 60 minutes to display up-to-date information.
The order of attributes in the table is the same order as ChartMogul displays custom attributes on the customer profile page, in the filter drop-down, and when choosing columns on the Customers page.
By default, attributes are listed alphabetically. To customize the order, hold and drag the icon.

Retire an attribute you no longer want to use by clicking Archive. This removes the attribute from the customer profile page and segmentation filter drop-down. Archived attributes will move to the bottom of the table. Revive a retired attribute by clicking Unarchive.