Manual plans are used to create a subscription for manual customers. You cannot add a manual plan to a customer who was imported from a different source.
Resources and further reading:
Creating a manual plan
1. Navigate to Admin > Plans and click NEW PLAN.
2. Select Manual as the data source. Create a name and set the billing interval. Click ADD to save the plan and add it to the plans table.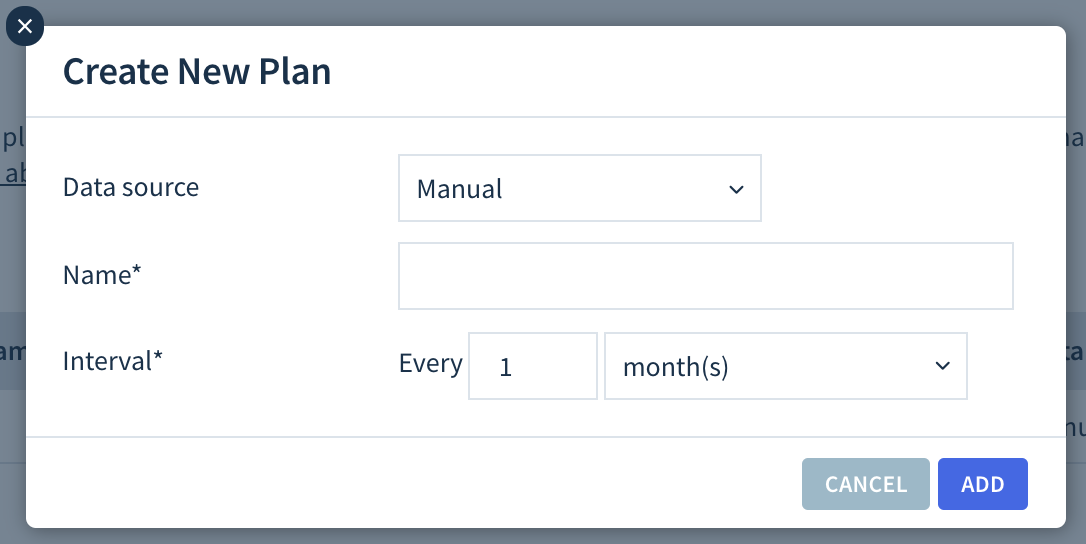 3. From the plans table, click DELETE to delete the plan. Click the visible icon to toggle its availability in the drop-down menu when filtering by plan.

A manual plan cannot be deleted if it has active subscribers. You must subscribe customers to a new plan before deleting the manual plan.
Adding a subscription
Customers from a different source cannot subscribe to a manual plan. For example, if a customer was imported into ChartMogul from Stripe, they cannot be subscribed to a manual plan.
Once a manual plan has been created, subscribe manual customers to the plan. Learn more about adding a subscription to manual customers and how MRR is calculated for manual customers.