Segmentation in ChartMogul helps you gain deeper insights into your data to measure, understand, and grow your subscription business. With Segmentation, your:
Segmentation works using a combination of attributes, tags, and filters. When combined, these help you explore your subscription data in more detail than ever before.
Here's what we cover in this article:
Understanding the Building Blocks
Working with Segments
Be sure to check out these additional resources on segmentation:
Understanding the Building Blocks
First, let's look at the Segmentation's building blocks: attributes, tags, and filters.
Attributes
Attributes are pieces of information or data that ChartMogul stores for each customer in addition to the customer, subscription, and billing data it retrieves from your billing system.
There are several types of attributes in ChartMogul:
Internal attributes defined by ChartMogul
Metadata imported from your billing system (such as the customer metadata imported from Stripe and Chargebee)
Custom attributes you add manually
Custom attributes you add via the Enrichment API
Learn more about custom attributes and how to add them to customers.
Tags
Tags are a type of custom attribute you can add to customers. Read more about tags.
ChartMogul lets you add an unlimited number of tags to customers, which you can then use to filter and segment customers.
For example, tag customers by the features they've requested, then prioritize features by comparing their impact on MRR. Similarly, you can tag customers at risk of churning and combine this with MRR metrics to drive churn mitigation efforts.
Tag customers directly in ChartMogul or through our Enrichment API.
Filters
Filters allow you to view and analyze a subset of your subscription and transaction data. For example, you can:
Analyze churn rates for customers who joined during a specific period
Calculate average revenue by account for a particular region
Compare MRR between plans
Most filters determine which customers are included in the chart. An important exception is the Plan > is one of filter, which filters based on the subscription plan. Learn more about plan filters.
Logical Operators
Logical operators help you define your filter and determine which data ChartMogul includes or excludes from your metrics.
Depending on the data type of the attribute you've selected, ChartMogul presents the following operators:
Numeric — equal to, not equal to, less than, greater than, equal to or less than, equal to or more than
Date — on, after, before, on or after, on or before, is within, is present, is not present
Tag — has at least one of, has none of, has all of, is present, is not present
String — is, is not, contains, does not contain, is present, is not present
Boolean — is true, is false
Working with Segments
Now that you understand the building blocks, let's look at how Segmentation works in ChartMogul.
Creating segments
Segments are a combination of one or more filters that you use to slice your data.
To create a segment, click Add Filter. Then select an attribute you'd like to filter by and one of the available logical operators.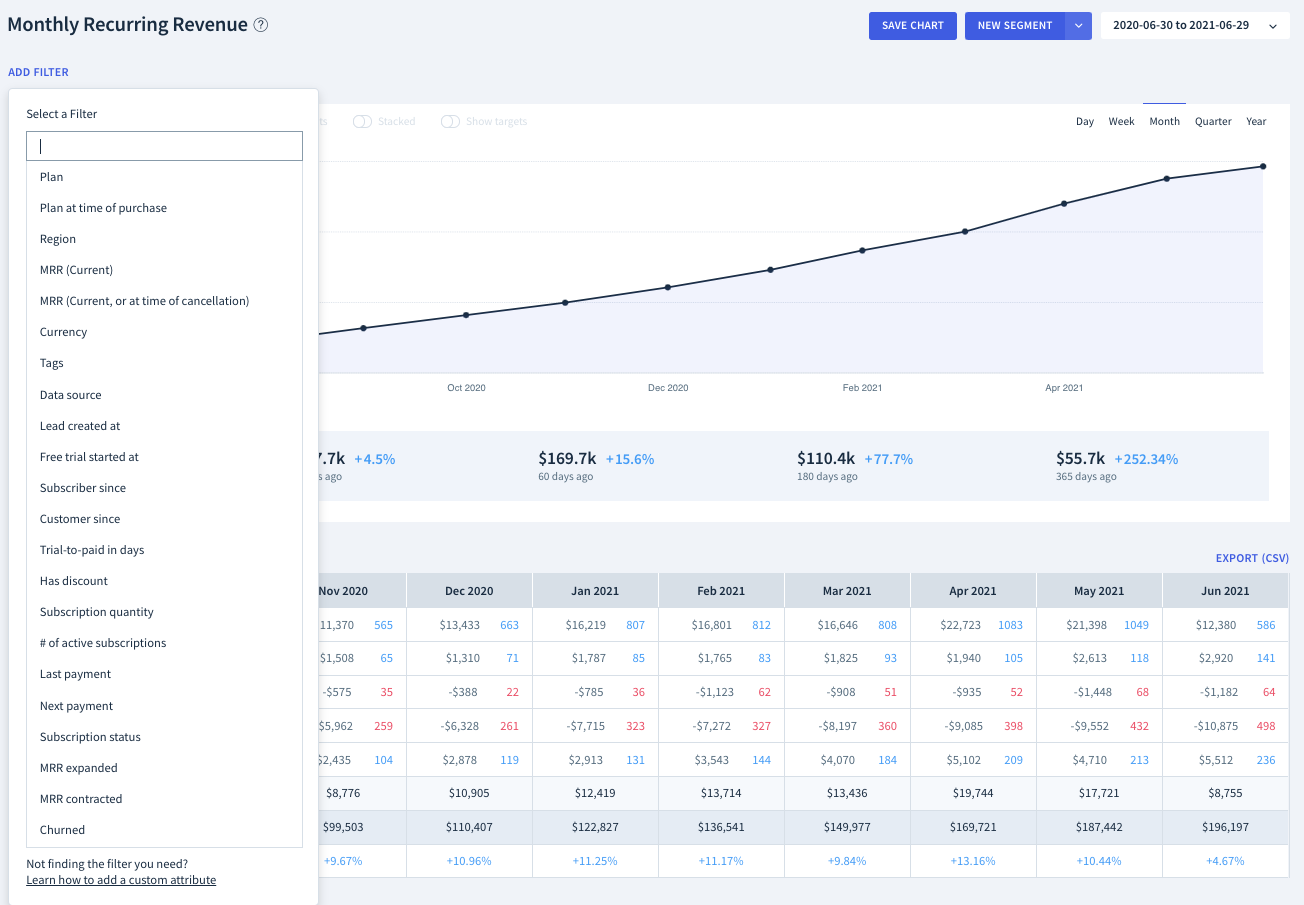 Narrow the focus of your segment by clicking Add Filter and repeating the steps above.
Saving segments
If you often filter by the same attribute(s), saving segments can be a timesaver. Here's how:
Create an initial segment by adding one or more desired filters
Click Save Segment
Name your segment and click Save
For example, let's say you'd like to create a segment of customers who signed up in Q1 2021 and have an MRR of less than $100. To do this, select the Subscriber since filter and set a date range of 2021-04-01 to 2021-06-30, and click Add.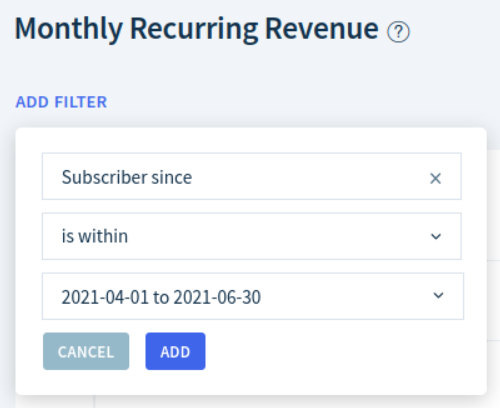 Next, add a second filter: click Add Filter, select Current MRR and is less than, type 100 in the field, and click Add.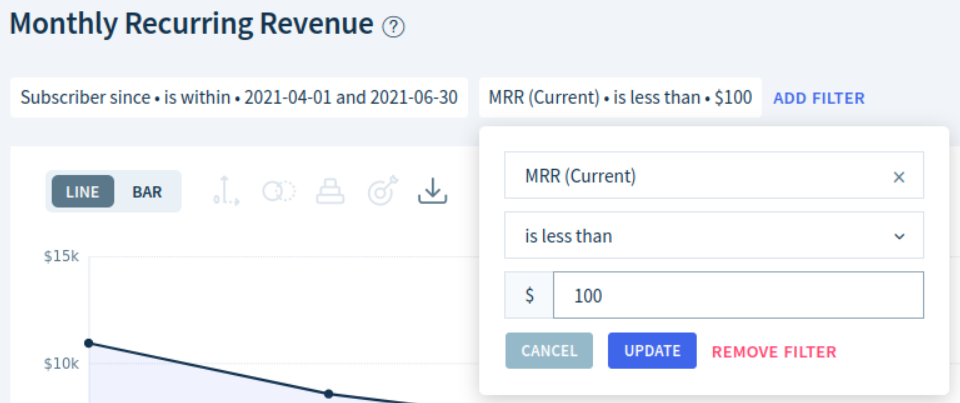 After adding the second filter, you'll see two additional options: Save segment and Remove filters.

Click Save segment, enter a name for the new segment, and click Save.

Once you've saved your segment, you can use it again in the future.
Selecting a segment
Select a segment you've previously saved by clicking the dropdown icon next to New Segment. The dropdown shows the segments you've previously saved along with several example segments we've added for you. (You can delete these by clicking the X in the Saved Segments dropdown).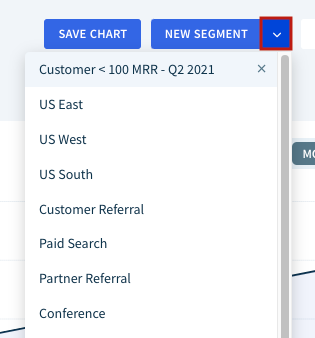 ChartMogul applies the segment you select to your customer data. If you have a larger dataset, it may take a moment for ChartMogul to update the chart.
Editing a segment
After selecting a segment, click Edit to adjust the filters you had previously set and then click Save.

Comparing segments
To compare segments, select a saved segment from Saved segments or create a new one. Then click Compare with saved segments and select another segment for comparison.
In the following example, we compare customers with MRR greater than $100 to customers with MRR less than $100. In the graph, we see that, towards the end of the period, most MRR comes from accounts with more than $100 in MRR.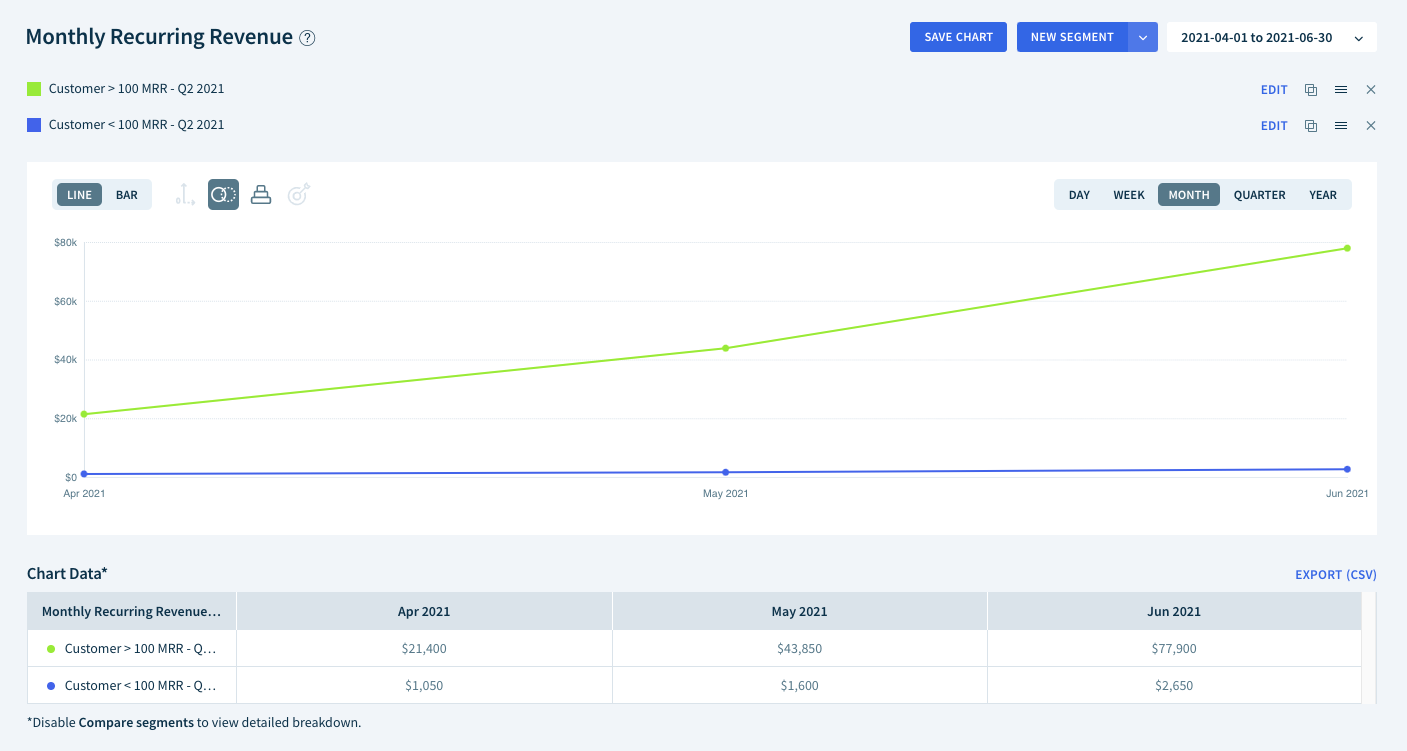 Stacking segments
Stacking segments helps you visualize the combined contribution of multiple segments. This is useful to see how a larger total is made up of smaller parts.
Here's how to stack segments:
Find a chart in ChartMogul you'd like to work with, such as MRR
Select a saved segment or apply a filter to the chart
Next, select another saved segment or click New Segment to add another segment to the chart

Click the Stack icon to stack the segments. (This option becomes available after you've added at least two segments to the chart.)

Using color labels
Color makes it easier to compare segments visually. Click the small patch of color next to the name of your segment, then pick a color.