Segmentation enables you to gain insights into your data that help you better understand and grow your business.
The segmentation feature enables you to tag and add custom attributes to customer records in ChartMogul through the user interface or via the Enrichment API; using these tags you can create segments and explore your data in more detail than ever. With Segmentation, you can also create complex filters using out of the box attributes added to customers using ChartMogul data.
Using Segmentation has many use cases such as allowing your marketing team to know exactly which campaigns generate the most revenue, to help your sales managers identify top performers and understand what industry segments have the highest customer lifetime value (LTV) to improve targeting, and success teams to understand and prevent churn.
In this article we'll cover:
Getting started
Segmentation has two main components, the Segmentation bar and attributes available on user profiles.
The segmentation bar is visible at the top of most pages with the ChartMogul UI, allowing you to create, edit and save segments. On the chart pages, you can also compare saved segments.
On customer profiles, we can see attributes that have been added via one of the available options. We can also add tags to customers manually here that can be used in filters.
Creating a segment
A segment is created by defining one or more filters on your customer base.
You can click on Add filter to see the available segmentation attributes.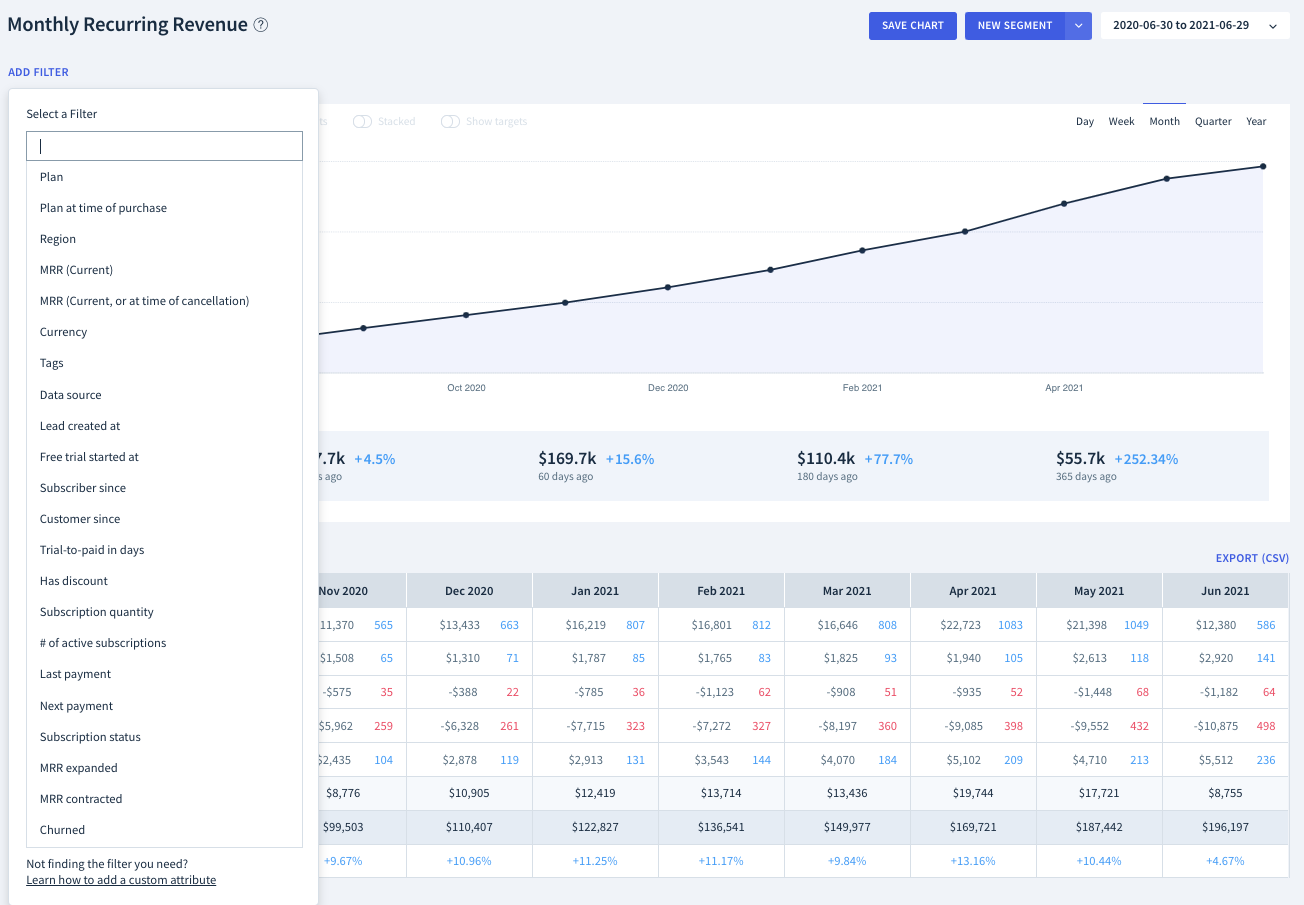 Understanding available attributes
Attributes can be divided into these categories:
Internal attributes defined by ChartMogul
Metadata imported automatically from your billing system (Stripe and Chargebee customer metadata is imported automatically).
Tags added manually.
Added via the Enrichment API.
You can learn more about attributes and how to add them to your users in our customer attributes documentation.
Understanding filters and operators
When you select a filter, it is applied to all your customers by default. After you select what attribute you want to filter by, you will have some operators available that will allow you to set the scope of the filter.
Depending on which attribute you have selected you will be able to access the following operators:
Numeric – equals, does not equal, is less than, is more than, is less than or equal to, is more than or equal to, is between
Date – is on, is after, is before, is on or after, is on or before, is between, is present, is not present
Tags – has at least one of, has none of, has all of, is present, is not present
String – is, is not, contains, does not contain, is present, is not present
Boolean – is true, is false, is present, is not present
You can apply multiple filters at the same time to define your segment.
Saving or clearing a segment
Let's say we would like to create a segment of all customers that joined in Q3 2020 that have an MRR of less $100.

We would leave the regional and plan filters untouched and would select the "Customer since" attribute, setting a time range of "2020-04-01 to 2020-06-30". All customers that aren't included in these filters get removed from the dataset being analyzed. We will click on "Add" to lock in the filter selection.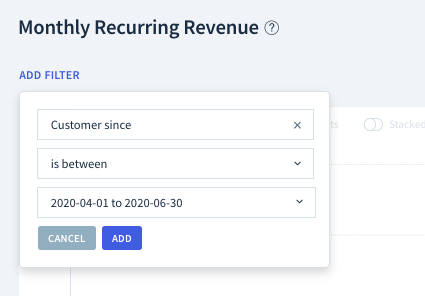 Next, we will add a second filter, select "MRR (Current)" and the operator "is less than" and type 100.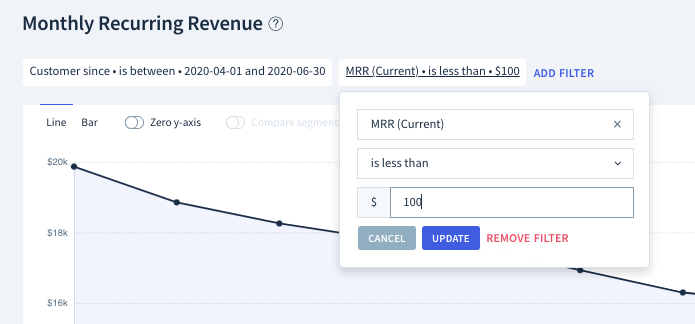 After adding a filter, we will see that two additional options appeared on the right: Save segment and Remove filters.
Removing the filters will reset them and the graph will also return to the default.
When you click on Save segment, a box prompts you to enter a name for the new segment.

Selecting and editing a segment
To select a saved segment, click on Saved segments. A drop-down will show you your created segments as well as some default segments ChartMogul added for you (you can delete these if you like by clicking the 'x' link in the Saved segments dropdown).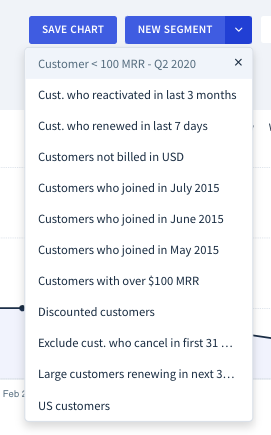 When you have selected a saved segment, it will be applied to your customer data. If you have a larger dataset, it might take a moment for your view to update. You will see an Edit option to the right of the segment when it is selected. Clicking on it will allow you to adjust the filters you had set for it. You will have to click on Save to confirm the changes made.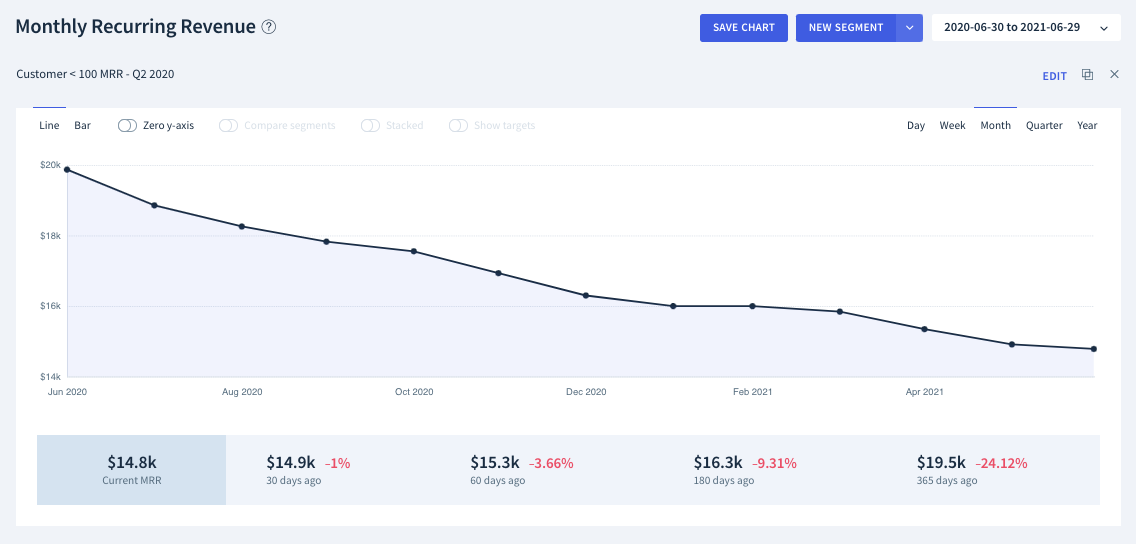 Adding a color label to a segment
You can now change the color of your segment to make it easier to compare segments. To change a color label, click on the little color patch to the left of the name of your segment. A color picker will pop up. Click on the color to confirm your selection.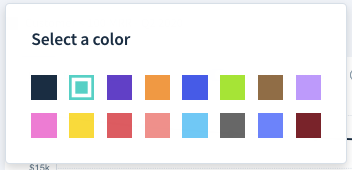 Comparing segments
To compare segments, select a saved saved segment from the "Saved segments" drop-down list or create a new one. Click on "Compare with saved segments" and select a segment for comparison. In this example, we are comparing customers with MRR >100 to customers with MRR <100. We can see in the graph that the majority of the MRR comes from accounts that fall into the <100 MRR segment towards the end of the period analyzed.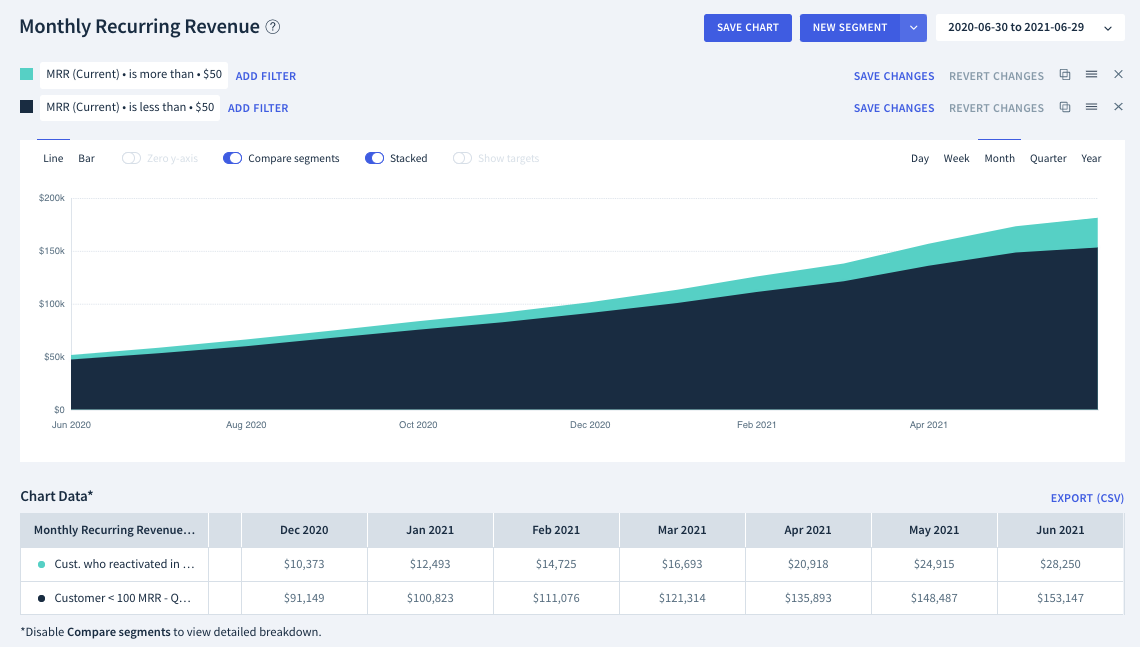 Viewing a bar chart
To view a metric as a bar that defaults to a line chart follow these steps:
Go to a chart in ChartMogul, such as MRR.
Click Bar at the top left of the chart.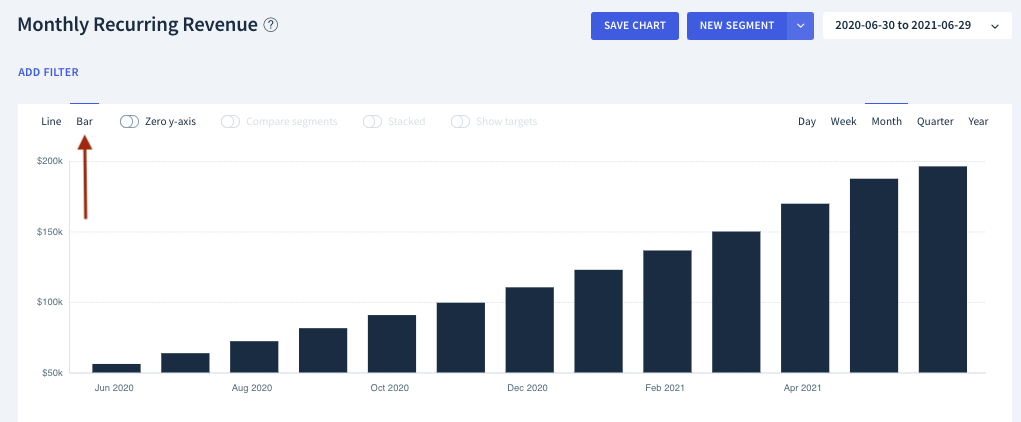 Stacking Segments
Stacked segments are only available on the MOGUL, Enterprise, and PRO plans.
To stack segments follow these steps:
Go to a chart in ChartMogul, such as MRR.
Select a Segment or apply a filter to the chart.
Next, select another Segment from your Saved Segments, or click New Segment to add another Segment to the chart.




Click Stacked at the top left of the graph. This option will only become available once two Segments are applied to the chart.

A stacked line chart will be displayed on the graph.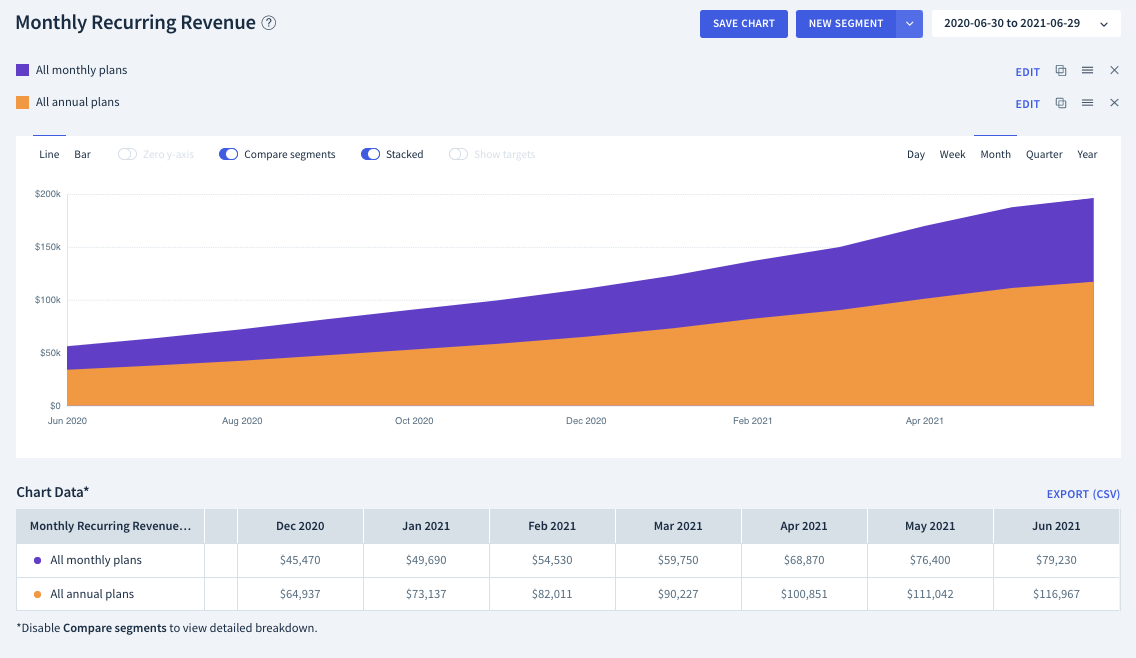 Tagging your customers
You can manually tag your customers from their user profile by clicking into the Tags box and starting to type out the tag you would like to add. If there are any matching tags, they will show up below the field. You can add new tags by pressing enter or clicking on the tag in the drop-down. Once a tag has been applied to a user, you will be able to use that tag in a filter condition to create a segment.