You can edit a number of customer attributes directly in ChartMogul.
To edit details for multiple customers, we recommend using our
Import API
.
To edit an existing customer's information:
1. Navigate to a customers' profile page and then click UPDATE CUSTOMER DETAILS.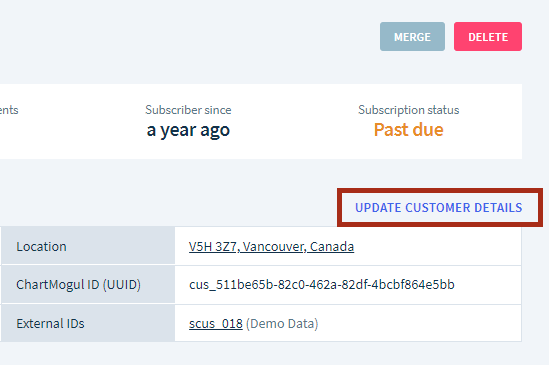 2. In the window that opens, you can add or edit the following fields:
Customer name
Company name
Email address
Country
State (if the country is USA)
City
Zip
3. To save your changes click on Update.
When using Stripe, Braintree, Paypal, Recurly, Chargify, a re-sync will not remove any customer edits. However, deleting the customer and initiating a re-sync will remove any edits previously made.