You'll need to be an Admin in ChartMogul and the Account Owner in Google Play Developer Console to complete the following steps.
Before you begin
There are four steps you'll need to complete before connecting Google Play to ChartMogul.
1. Select an integration type
ChartMogul offers two ways to import your Google Play data: either using Google Play's daily Sales report (no development required) or by sending your data via the payloads URL (development required in sending payloads).
Each integration type has its own advantages. Please make sure you understand how each integration type works and select the one best suited to your needs before continuing.


2. Retrieve your app's package name
Get your Google Play app's package name by opening your Google Play console and looking at your list of published apps. You'll find the package name directly below the name of the app you'd like to import into ChartMogul (e.g., com.pecode.purchaseappdemo).

3. Set up API Access Client using a service account and download JSON Key
Next, carefully follow the steps to set up an API access client using a service account, setting the Role to Owner.
After creating the service account, click the Actions icon and click Create key. Select JSON as the Key type and click CREATE.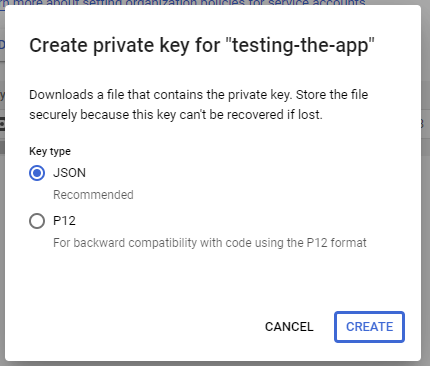 After clicking CREATE, Google generates a JSON file that your browser should automatically download. You'll upload this file as the Service Account JSON Key as part of connecting your Google Play account to ChartMogul below.
Finally, go back to your Google Play console's API Access page, find the new service account you just created in the list, and click Grant Access. Then edit the Role to add the Manage orders permission. Google Play may take up to 24 hours to update the permissions for newly created accounts.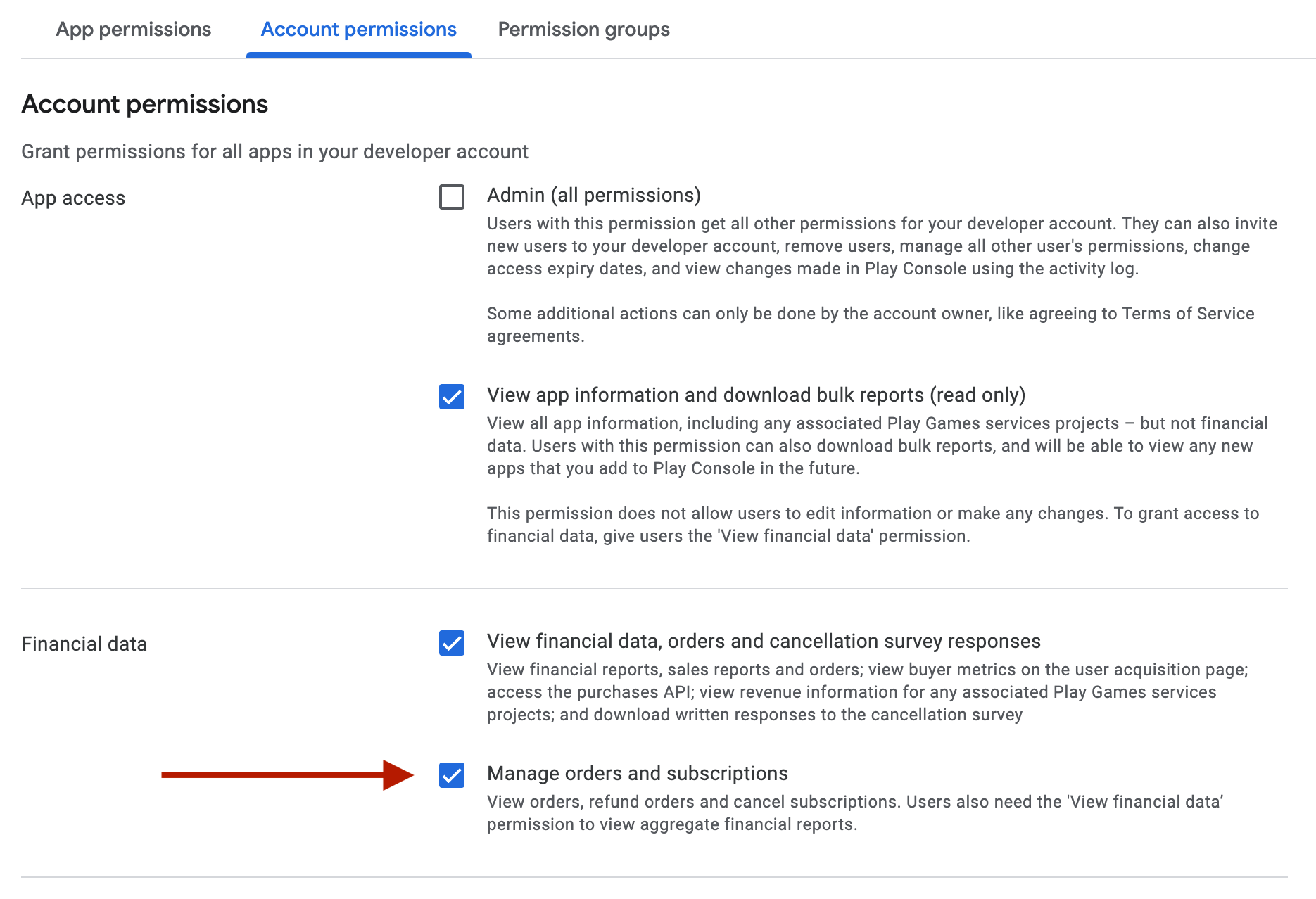 4. Retrieve your Google Play Storage Bucket ID
You'll only need to complete this step if you've decided to import your Google Play data using the daily Sales reports (and not by sending the payloads manually).
Here's how to retrieve your Google Storage Bucket ID:
Go to your Google Play console and select Download Reports in the left navigation bar
Find and click on your app
At the bottom of the page, find the Direct reports URI. It'll look something like: gs://pubsite_prod_rev_01234501234567890123/reviews
Extract your Google Play Bucket ID from the Direct reports URI by removing both gs:// (from the beginning) and /reviews (from the end), e.g., pubsite_prod_rev_01234501234567890123
Connecting your Google Play account
Add a Google Play source for each app you'd like to import billing data into ChartMogul.
Navigate to Data Platform > Sources.
Click ADD A SOURCE.

In the popup, click Google Play from the list.

Enter a name and click NEXT.

Complete the Google Play source form using the Package Name, Service Account JSON Key file, and Google Storage Bucket ID you retrieved in the Before you begin section above. Once you've filled out all the fields, click CONNECT.

If you selected Import my data using the daily Sales report as the Integration Type, ChartMogul starts the import automatically.

If you selected I'll send the payloads via the payloads URL as the Integration Type, ChartMogul displays the Payloads URL between the UUID and the Connect / Re-sync Data button (see screenshot below).
Use the Payloads URL to import new and historical Google Play purchases into ChartMogul. Read our developer tutorial on importing purchase payloads.