We're excited to announce improvements we've made to our PayPal integration.
Improved visibility on data platform
We now display the data we've imported from PayPal in the Data platform table shown below. The table allows you to see how we've imported your customers, invoices, plans, and transactions into ChartMogul.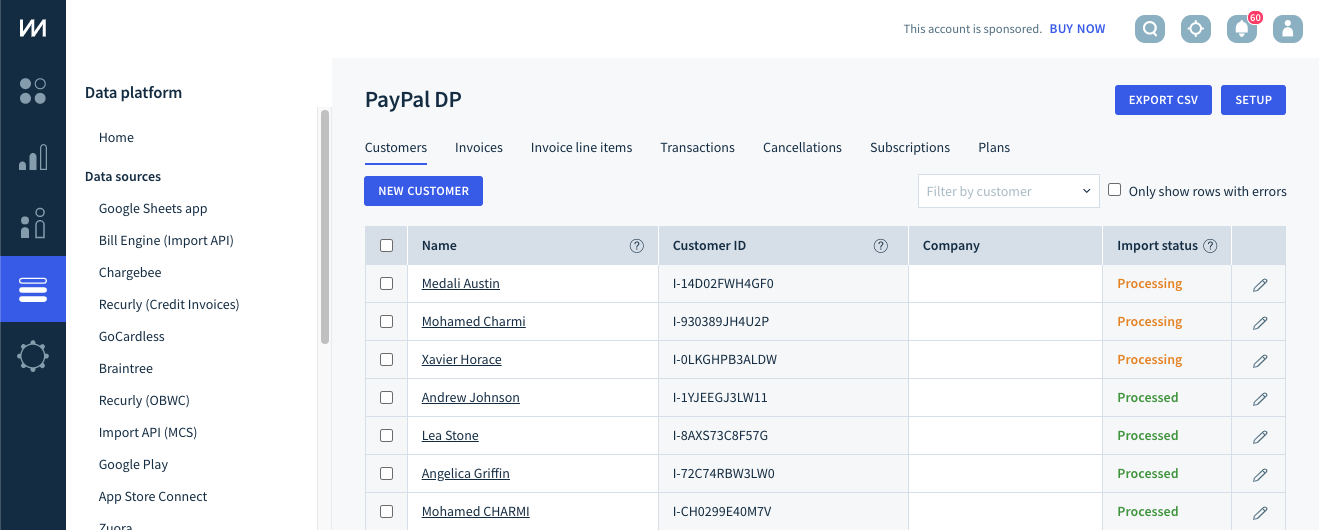 You also have the option to export your data to a CSV file. When you click EXPORT, ChartMogul emails you a link to download your file.

Better refund handling
We now correctly map Refunds instead of deducting them from Gross cash flow to provide better visibility in ChartMogul into how much you've refunded customers in PayPal.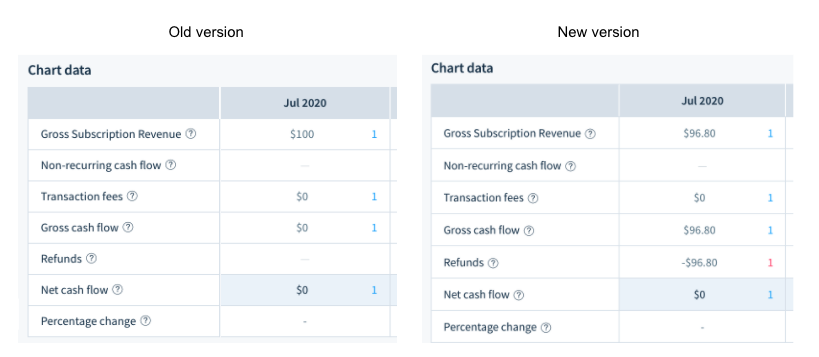 Track past-due subscriptions
We've added a subscription end date to each recurring invoice line item so you can see which subscriptions are past due. Before, you could only see whether a subscription was either Active or Cancelled.
Old version


New version


---
When can I start using the updated PayPal integration?
For new ChartMogul accounts (created on/after 4 December 2020), you can start using the latest version of our PayPal integration right away.
For existing ChartMogul accounts (created before 4 December 2020), our Success team will announce by email and via in-app messages when we'll be switching you over to the updated integration. Once we upgrade your account, the new features will only apply to new, incoming data. To update existing data, you'll need to re-sync your PayPal source.
What happens when I re-sync my data?
With the updated method of importing and processing PayPal data, you may notice changes to your subscription metrics. Because of this, we recommend exporting your subscriptions before re-syncing your PayPal source to have a point-in-time comparison, should you need it. If you have data older than three years, ChartMogul won't be able to reimport these data. PayPal API has a 3-year retention limit and is a known limitation. You will also lose data older than three years if you do a reimport.
Here is a summary of the data changes to expect:
Refunds now reflect how much you've actually refunded your PayPal customers (instead of showing $0)
ChartMogul now creates a subscription even when the initial transaction fails due to lack of payment. As such, you may see an increase in MRR. (Previously, ChartMogul only created a subscription after a successful payment had occurred.)
Delinquent subscriptions previously reported as Active in the old PayPal are now reported as Past Due. ChartMogul may also report these delinquent subscriptions as Cancelled if you've enabled the Auto-churn of Delinquent Subscriptions setting.
Stay tuned
We're continuously improving ChartMogul. Watch this article for updates on our PayPal integration.
If you have any questions or need help with this integration, please contact support.