ChartMogul is a subscription analytics platform and CRM used by thousands of businesses with recurring revenue to measure, understand, and grow their recurring revenue businesses. Unify and enrich your subscription data in a single location to automate the reporting of key subscription metrics: monthly recurring revenue (MRR), customer churn, customer lifetime value (LTV), and more.
Here's what we cover in this article:
How does ChartMogul work?
ChartMogul brings all your subscription data together by importing customer and invoice data from your billing systems. Data from invoice line items is normalized into subscriptions and then used to generate key metrics using industry-standard calculations. These metrics are available as reports to give you crucial insights into your business to understand what's working, what's not, and how to grow to the next level.
ChartMogul metrics are updated automatically when data is imported from a supported billing system or an integration built using our API. Update metrics manually by importing subscription data using CSV or adding it directly from the user interface (UI).
How can ChartMogul help my business scale?
Let's look at Tetoko — a fictional business-to-business (B2B) Software-as-a-Service (SaaS) company. Tetoko stores billing data in two locations: their billing system software (Stripe) and their own data warehouse. They can't track and analyze subscription data in one place, making it impossible to have a single source of truth for key subscription metrics — precisely the metrics they need to grow their book of business effectively while avoiding churn.
The majority of their billing is automated: most customers receive an invoice and pay for their subscriptions using Stripe. However, a portion of their billing is manual: Tetoko's finance team manually bills a select (but growing) group of enterprise customers (who prefer to pay via wire transfer). They manage billing for these customers in their own data warehouse.
Tetoko wants to know its average revenue per account (ARPA) to create a sales and marketing strategy for achieving an annual run rate (ARR) of $10 million. For example, should they focus on acquiring more of the same type of customer or move upmarket, focusing on fewer customers with larger ARPAs?
To access the insights they need, Tetoko starts using ChartMogul. Stripe is one of ChartMogul's supported billing systems. This out-of-the-box integration imports most of their billing data, and Tetoko gets up and running fast — without writing a single line of code. For the enterprise customers they bill manually, Tetoko builds a custom integration using ChartMogul's API to import the additional billing data they store in their data warehouse.

ChartMogul imports Tetoko's customers and their billing data, including each customer's unique ID, plan, amount they're billed, and service period. This generates subscriptions, which are normalized into standardized SaaS subscription metrics.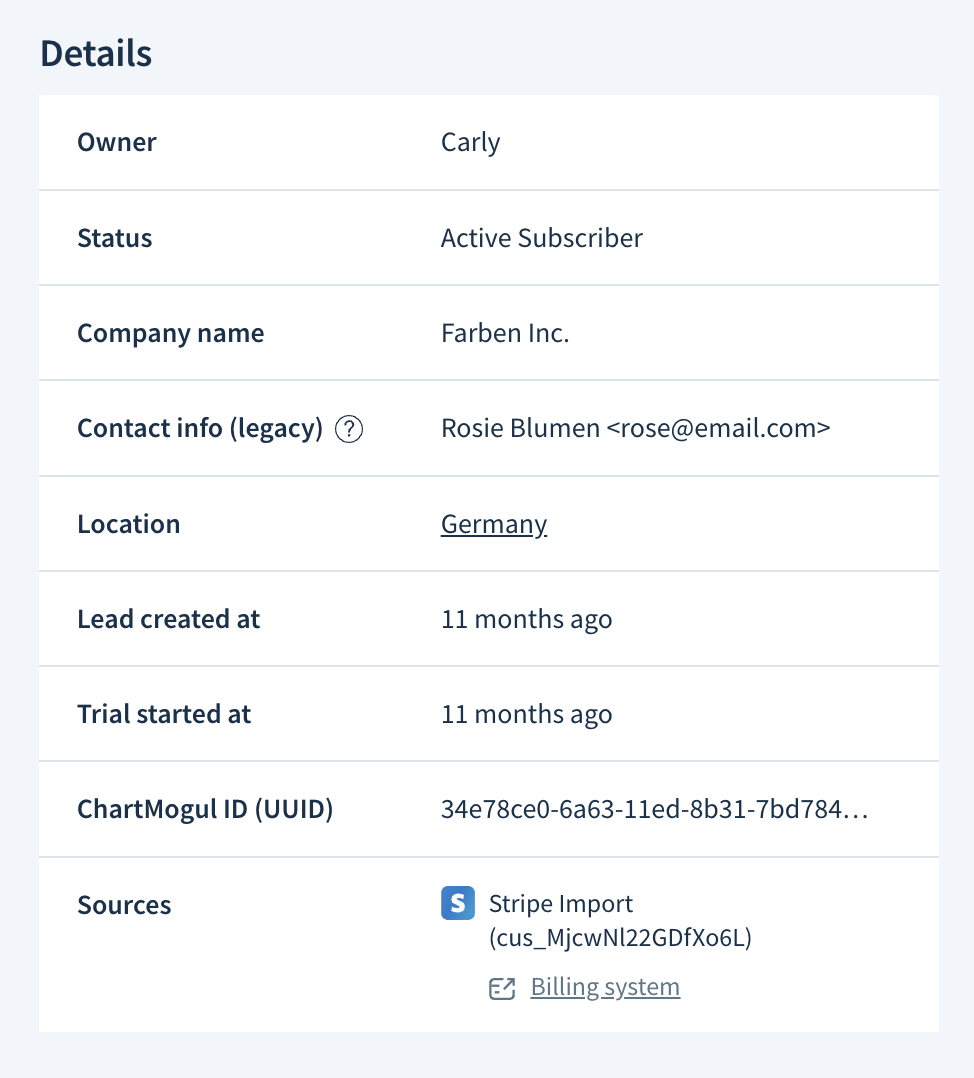 Now, with all of their subscription data in one place, Tetoko has access to high-level reporting that enables them to view and understand business trends. They discover that, in fact, most of their revenue comes from customers with a relatively-low ARPA, meaning that to get to $10 million ARR faster, they'll need to move upmarket and sell into larger accounts.
Their reports stay up-to-date automatically and can be segmented for further analysis. For example, as Tetoko moves upmarket and changes its pricing, acquisition strategy, and product, they see the impact on their ARPA in ChartMogul, in real-time.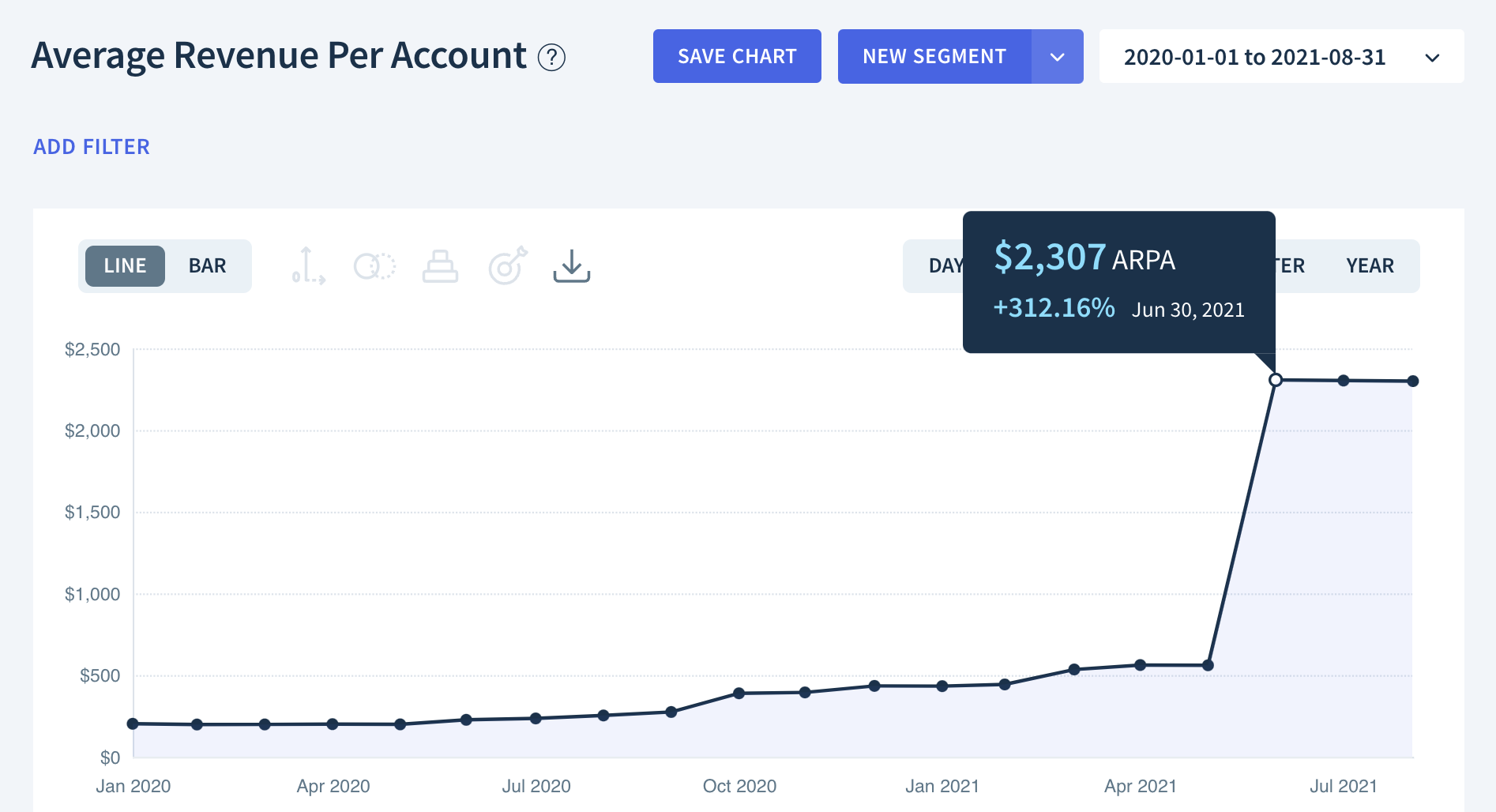 Plus, all of Tetoko's employees have access to ChartMogul, so the whole team can track progress and celebrate milestones as they get closer to the $10 million ARR goal.
How do I get started with ChartMogul?
Getting started is easy: sign up, configure your data settings, and import your subscription data.
Questions? Find in-depth how-to articles and tutorials right here in our Help Center, or reach out to our friendly and knowledgeable team.
Further reading
Read how these top SaaS performers leverage ChartMogul: