You will need to be an Admin to complete the following steps and initiate a data import from GoCardless.
Connecting your GoCardless account
Go to https://gocardless.chartmogul.com/. You will be asked to log into your GoCardless account. Enter your GoCardless login credentials, and click on the Connect your GoCardless account button.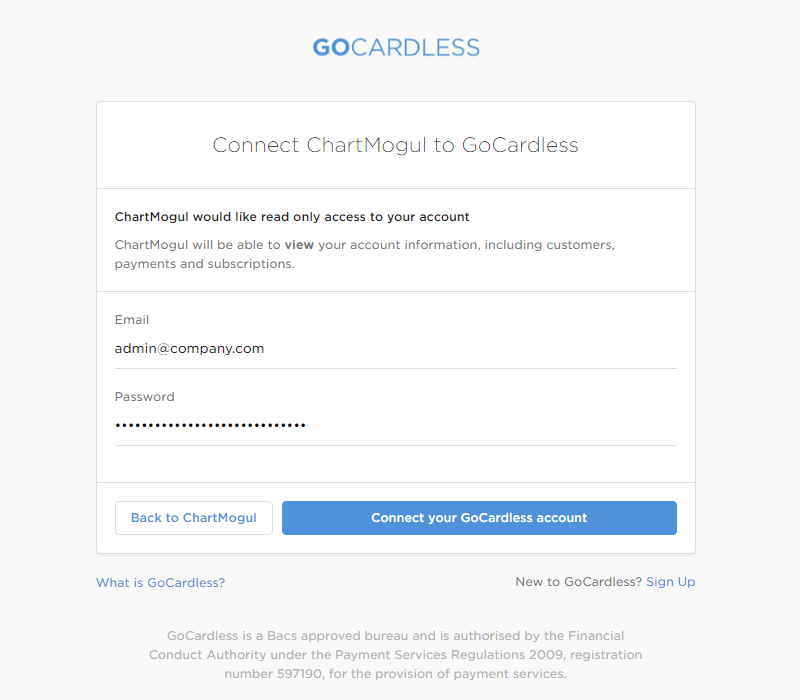 2. Once your GoCardless account is connected, you can enter your ChartMogul credentials:
3. Finally, click IMPORT DATA to start the import from GoCardless. The import can take some time. The data will be imported under a data source named GoCardless in your ChartMogul account.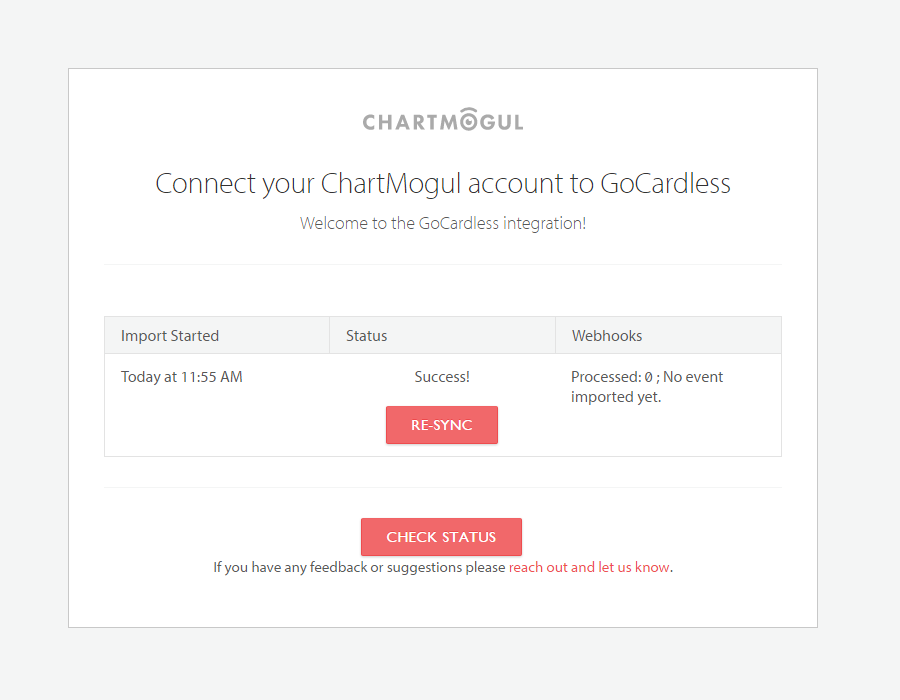 Please let us know if you have any questions or feedback when using this integration. We are here to help!
Re-Syncing your data
Though your ChartMogul account will automatically update when there is activity in your GoCardless account, you can also re-sync all GoCardless data in your ChartMogul account. To re-sync your GoCardless data with ChartMogul, navigate to https://gocardless.chartmogul.com in the same browser you used to set up the GoCardless integration, and click RE-SYNC. This will refresh your GoCardless data in your ChartMogul account.
What you need to know:
ChartMogul's GoCardless integration relies on subscription information to generate metrics. Therefore, you need to be using GoCardless Subscriptions in order to leverage the recurring revenue metrics that ChartMogul delivers. Payments not linked to a subscription in GoCardless will be reported under Non-Recurring Cash Flow in ChartMogul.
If you do not use the Payment Plans feature to manage subscriptions in GoCardless, then each subscription will generate it's own Plan in ChartMogul based on the billing interval information. We recommend using Plans in GoCardless, and also recommend creating plan groups in ChartMogul for better segmentation.

The integration imports region, language and all metadata of customers as custom attributes, and imports the mandate IDs as tags into ChartMogul. This metadata can be used with segmentation features in ChartMogul.

Late failures are ignored. In GoCardless, payments can fail late, after initially being confirmed and paid out to the merchant. To record this properly would require editing previous invoice transactions, which is currently not possible in ChartMogul. This means that the failed payments reported in ChartMogul may not be complete if you have late failures in GoCardless.

Chargebacks in GoCardless are treated as refunds in ChartMogul.

When a chargeback is cancelled in GoCardless, we will record a successful payment following the initial refund for the subscription in ChartMogul.

In GoCardless, it is possible to have future dated charge dates. In such cases, the service period start time in ChartMogul is set to the time when the payment is created in GoCardless. This is because ChartMogul does not currently accept future dated service periods.