You will need to be an Admin in both ChartMogul and Chargebee to complete the following steps.
Importing historic data
Click the data platform icon on the left menu to navigate to the Data platform tab. Alternatively, you can click the link mentioned below to directly move to the data platform tab - https://app.chartmogul.com/#/data-platform
Add a data source by clicking Add a data source button in the Home section

In the popup, select "Chargebee"


Once you select your data source type, enter a name for your data source and click on Next
2. In the next page, enter the subdomain for your Chargebee site and an API key:
The subdomain of your Chargebee site URL can be found in the browser address bar when logged into your Chargebee account.

You can generate an API key in your Chargebee account at Settings > Configure Chargebee > API keys. Click on Add API Key. When generating a Chargebee API key, enable "Read Transactional Data" and "Read Product Configuration" only. Do not enable "Full Access". For additional security, enable "Exclude card object from webhook call".
Copy and paste the Chargebee subdomain and the generated API key into the ChartMogul data source configuration page as shown below.

3. Finally, click IMPORT DATA to start the import from Chargebee. The import can take some time.
Add a webhook to enable real-time reporting
You should now see a webhook URL generated and displayed in the same page just above the IMPORT DATA button. Copy this URL.

Log in to your Chargebee dashboard and navigate to the Settings > Configure Chargebee > Webhooks page.
Click Add new webhook, then paste your ChartMogul Webhook URL (copied in step 1 above) into the URL field, select V2 as the API Version, then click Create webhook.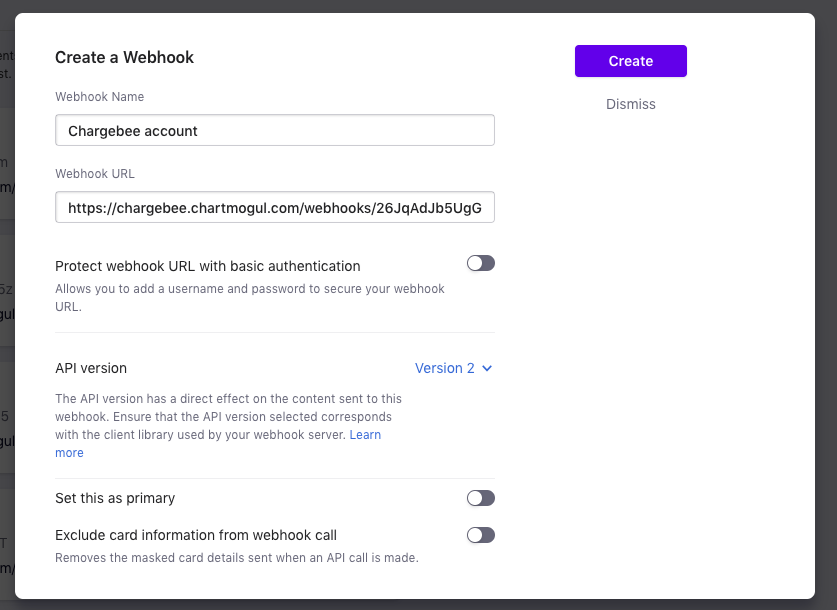 Once this webhook is created, relevant changes in your Chargebee billing data will be automatically imported, processed and reported in ChartMogul.
What you need to know:
Mid-billing period prorated add-ons will be applied at the start of a customer's next billing period.
Since Chargebee doesn't keep subscription cancellation dates for longer than 90 days in the past, if a customer cancels and reactivates the same subscription 90 days before connecting your Chargebee account to ChartMogul, this churn and reactivation will not be reported in your ChartMogul MRR movements.
The Chargebee integration tracks customer trials if setup in Chargebee. You can read about this here. Once payment is made by a trial customer, the existing customer is updated in ChartMogul. This allows you to track your trial to paid conversion rate.
Partial payments of the same invoice are currently reported as duplicated full payments in the cashflow reports in ChartMogul. However, partial refunds are reported correctly.
The ChartMogul integration currently imports metadata from your Chargebee account, but not custom fields. You can see the difference between the two in this article.
The ChartMogul integration doesn't support base plan with add-ons that have different service periods. This could result in incorrect MRR calculation.
Chargebee add-ons will be rolled into the base plan when calculating the MRR. This means that a detailed list of purchased add-ons will not be visible on the subscriptions and transactions tables.
When there are prorated changes to the add-ons but not on the base plan, this will be reflected as an increase or decrease in the subscription quantity within ChartMogul.
When applying immediate prorated changes to a subscription, make sure that the option Apply prorated credits and charges is checked. Otherwise, this may result in incorrect MRR calculation.
The integration requires Chargebee to generate invoices for $0 subscriptions. Make sure that this setting is disabled in your Chargebee account.
ChartMogul doesn't support advanced billing of subscriptions with add-ons.
Chargebee API doesn't support unsubscribing from webhooks. Your Chargebee admin must manually remove the ChartMogul URL in your Chargebee account should you decide to cancel your ChartMogul account.