You will need to be an Admin to complete the following steps.
Step 1. Importing historic data
Go to https://chargebee.chartmogul.com/ and you will see a form to fill out.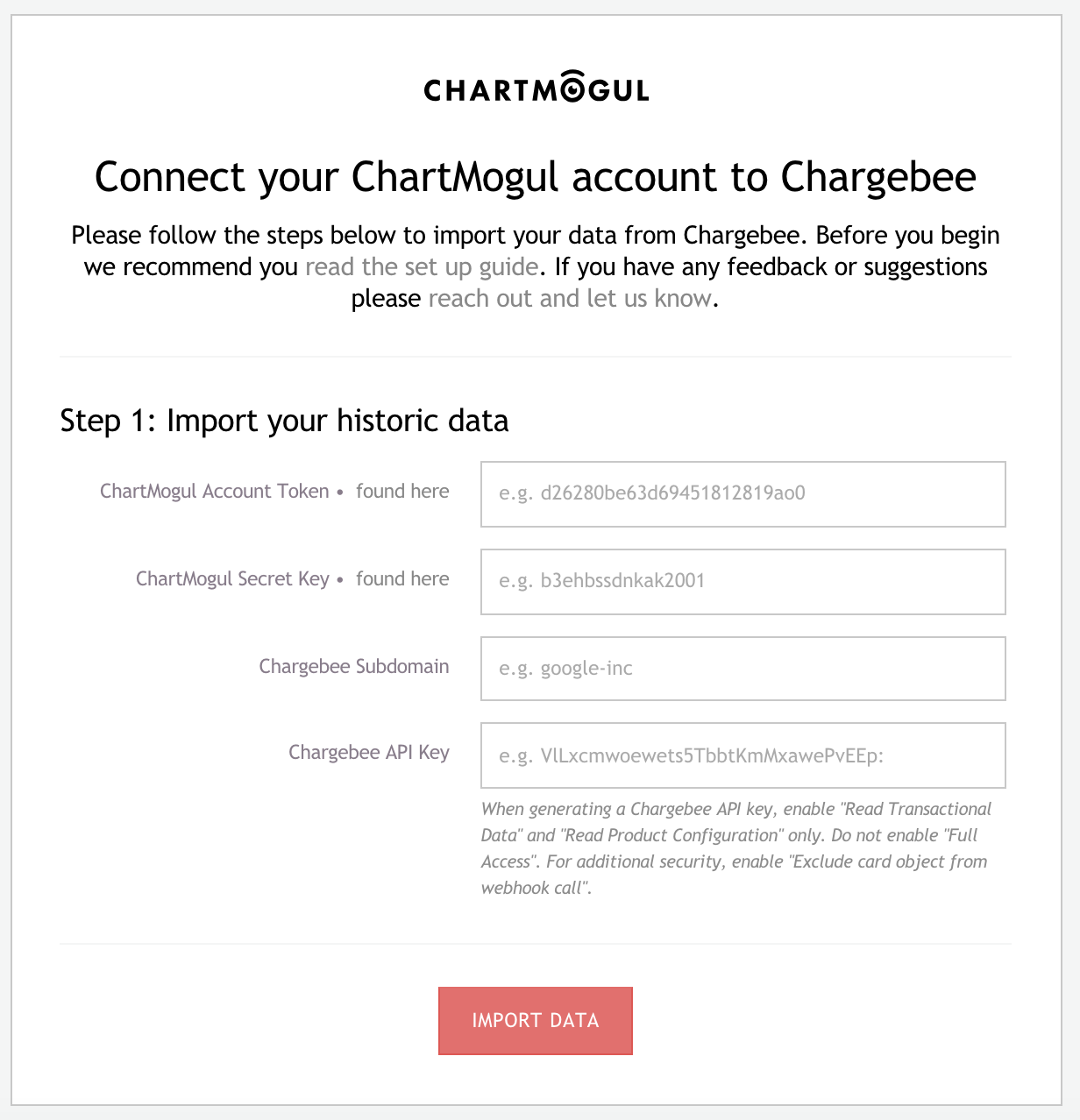 2. Copy and paste your ChartMogul and Chargebee credentials:
Your ChartMogul API keys be can found at https://app.chartmogul.com/#admin/api.
Your Chargebee site or subdomain name is in your Chargebee account URL. If your Chargebee account is at https://company.chargebee.com, your subdomain would be 'company'.
You can generate a Chargebee API key in Chargebee > Settings > Configure Chargebee > API keys > Click Add API Key. When generating a Chargebee API key, enable "Read Transactional Data" and "Read Product Configuration" only. Do not enable "Full Access". For additional security, enable "Exclude card object from webhook call".
3. Finally, click IMPORT DATA to start the import from Chargebee. The import can take some time.
Step 2. Add a webhook to enable real-time reporting
You should now see a webhook URL provided as below
Log in to your Chargebee dashboard and navigate to the Settings > Configure Chargebee > Webhooks page.
Click Add new webhook, then paste your ChartMogul Webhook URL (provided as above steps) into the URL field, select V2 as the API Version, then click Create webhook.


Please let us know if you have any questions when using this integration. We are here to help!
What you need to know:
Mid-billing period prorated addons will be applied at the start of a customer's next billing period.
If a customer cancels and reactivates the same subscription 90 days before connecting your Chargebee account to ChartMogul, this churn and reactivation will not be reported in your ChartMogul MRR movements.
The Chargebee integration tracks customer trials if setup in Chargebee. You can read about this here. Once payment is made by a trial customer, the existing customer is updated in ChartMogul. This allows you to track your trial to paid conversion rate.