You need a paid plan to to edit, save, and share customer lists.
In this article, we will learn how to use customer lists in ChartMogul to define segmented lists of customers that are useful to your business. You'll be able to save multiple customized lists and make them available to other members of your team, as well as export the list data for use in other systems.
What is a customer list?
Customer lists in ChartMogul are saved views of customer data. A saved customer list can include the following:
One or more filters
One or more user segments
Selected columns (including custom attributes)
Column sorting options: "sort by" and "sort order"
A name
Visibility options
Saved customer lists are found in the sidebar on the left of the Customers page: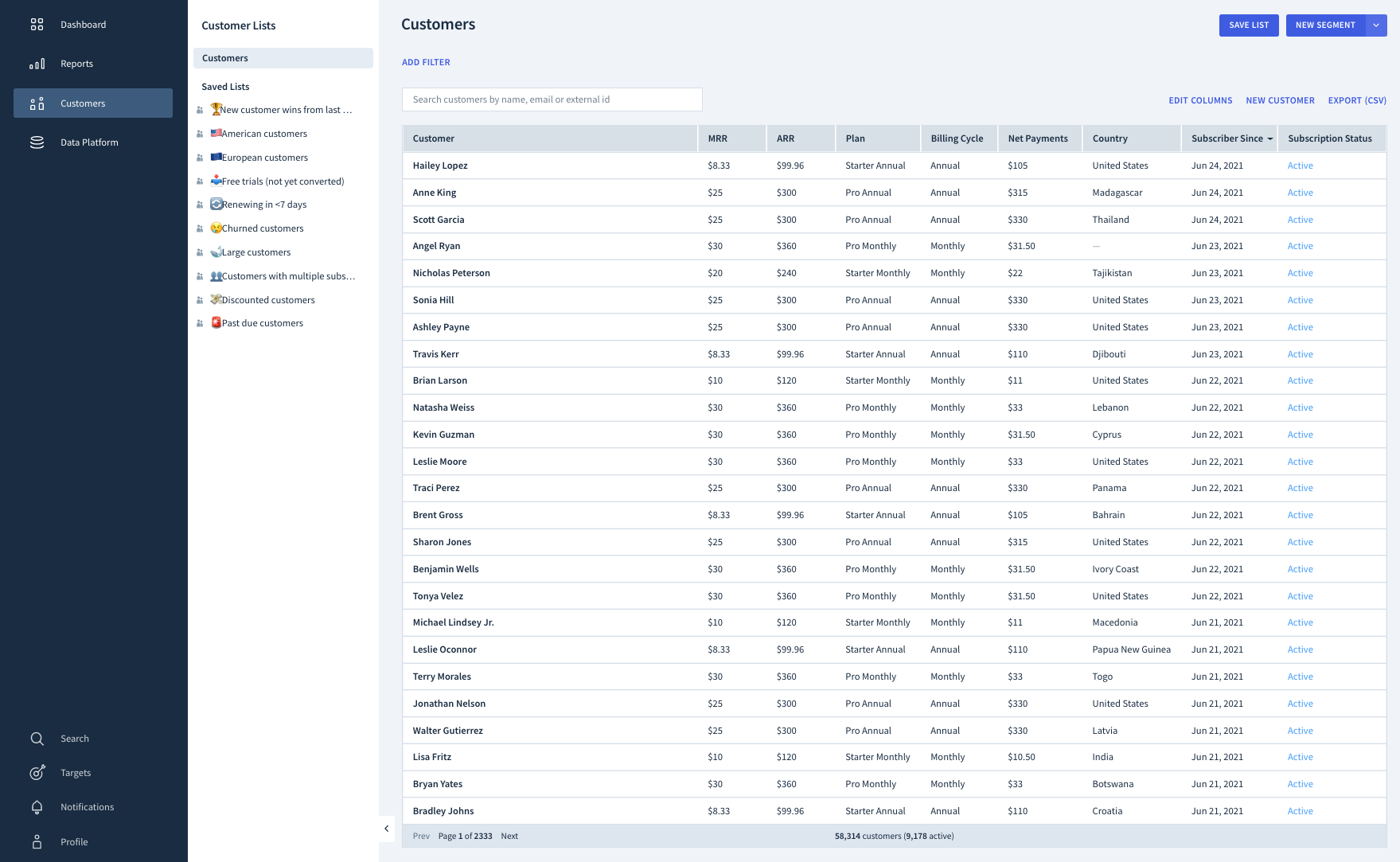 How to create and save a customer list
Step 1: Navigate to the Customers page
Step 2: Apply edits to the list
This can include:
Applying filters
Applying saved segments
Adding/removing/reordering columns in the table
Changing sorting options for the table
For details on how to make these edits, see the sections below.
Step 3: Save and name the list
Click the save list button. Next, you can define a name and sharing options (see how to share a saved customer list). Tip: Use an emoji in the name to make your list more recognizable!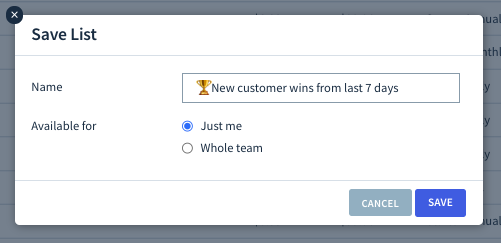 How to add or remove columns in a customer list
Step 1: Click edit columns
Doing this will open the select columns drop-down: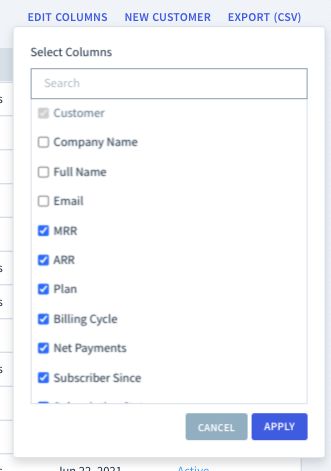 Step 2: Toggle the attributes you want to add or remove
You can choose from a selection of built-in attributes, as well as all custom attributes you may have added to ChartMogul.
Step 3: Click Apply
The customer list will be updated with your column selection.
How to reorder columns in a customer list
To reorder columns, click and drag a column header to a new position in the table: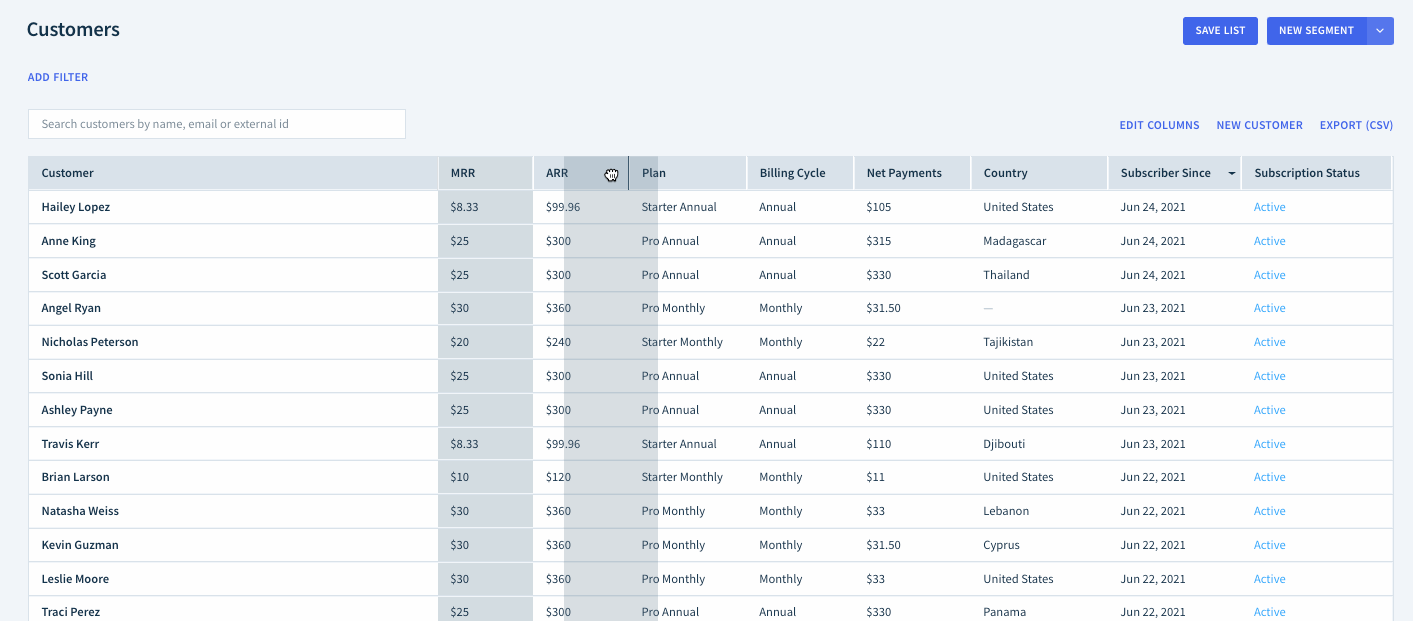 How to sort a customer list by a specific column
Not all customer attributes are currently sortable in customer lists.
To sort by a specific column, click the column header. You can click a second time to reverse the sort order.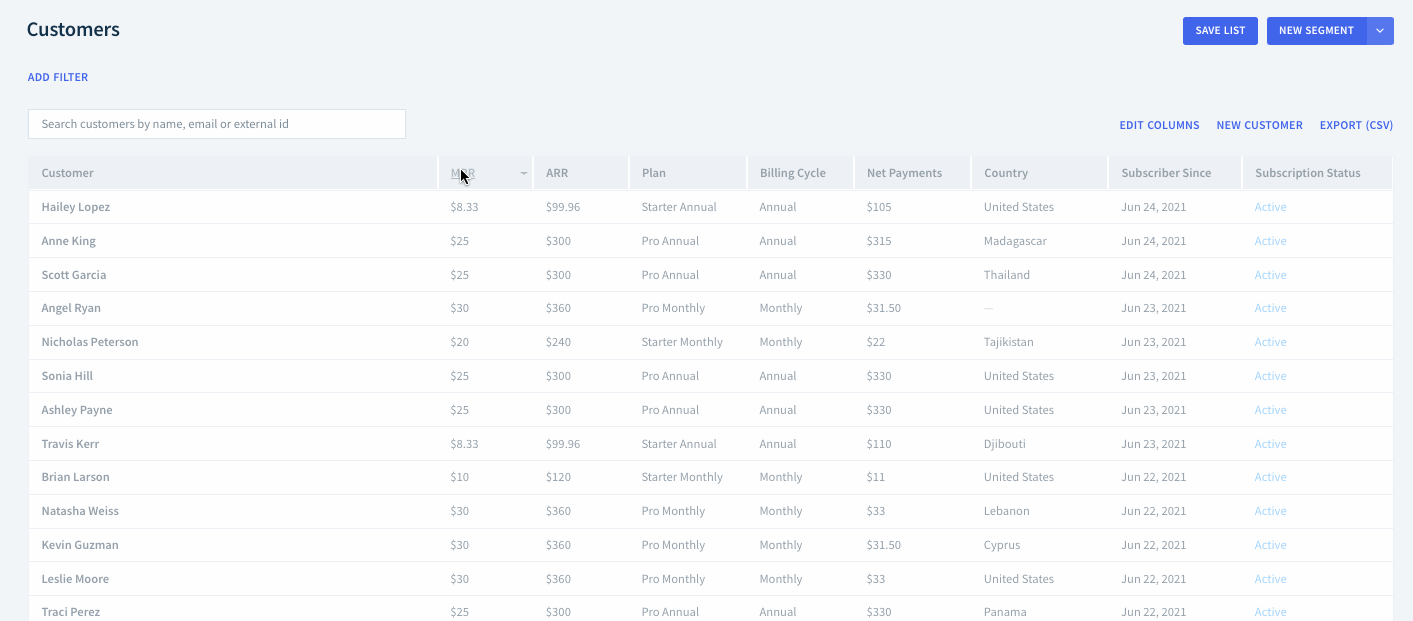 How to share a saved customer list with your team
Step 1: Find the list you want to share
You can find all your saved lists in the sidebar on the left under Saved Lists.
Step 2: Click the settings icon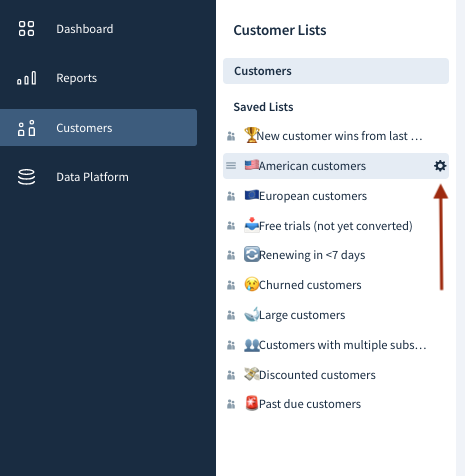 Step 3: Change the visibility option
Make sure the Available for option is set to Whole Team, then click SAVE. After this, the list will be visible in the customer lists sidebar for all users of your ChartMogul account.