Charts are the heart of ChartMogul. We use them extensively to help you visualize and analyze your SaaS metrics. Here, we show you how they work and everything you can do with them.
Here's what we cover in this article:
Resources and further reading:
Overview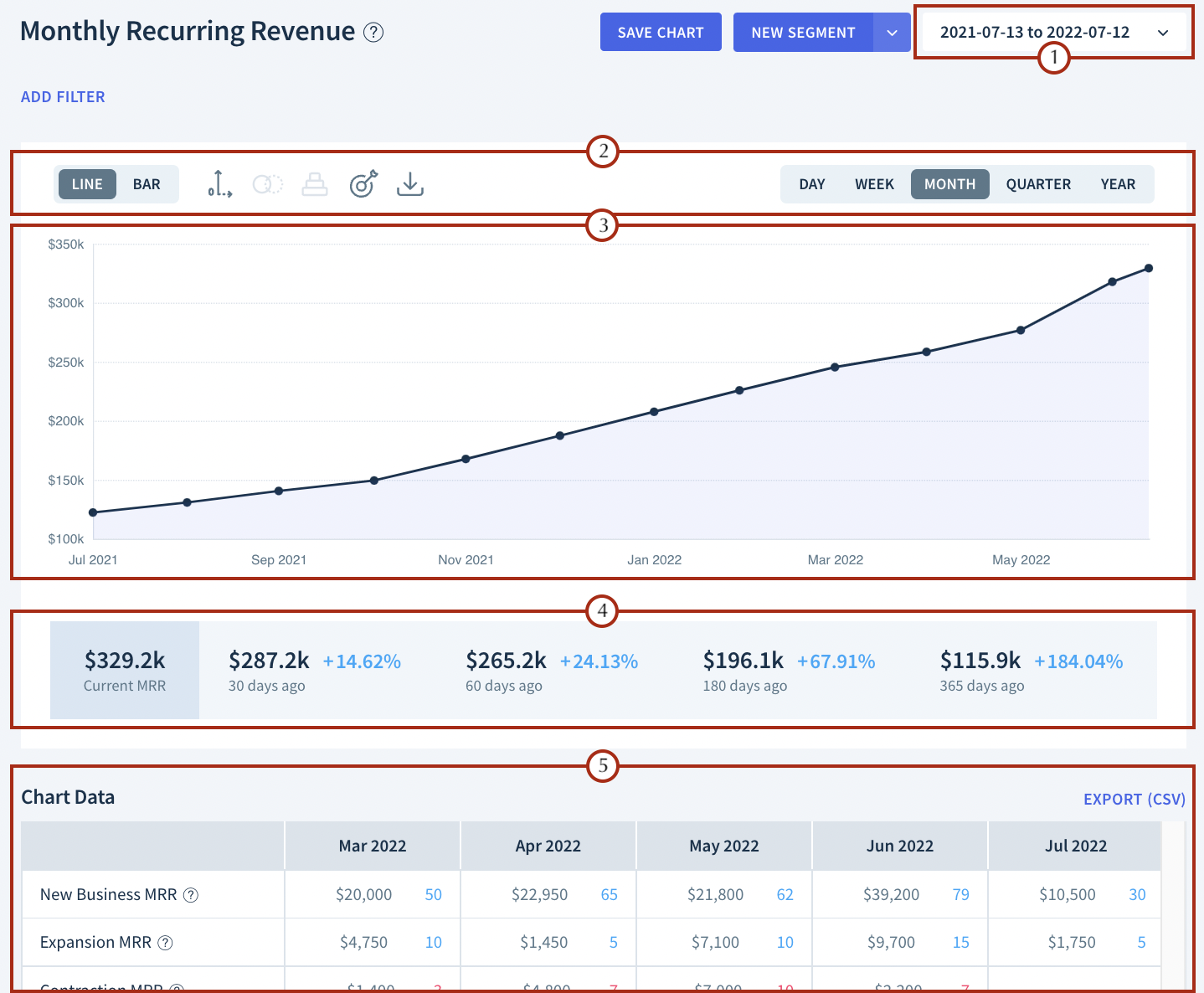 The

date range drop-down allows you to pick the start and end dates for your chart (i.e., establish the reporting period). The

Toolbar provides various options for configuring your chart (e.g., switching the chart type from line to bar or zeroing the Y-axis). The

Graph is the visual representation of your metric (e.g., Monthly Recurring Revenue (MRR)), while the

Summary Metrics that follow show how your metric has changed at key intervals over the past year. Finally, the

Chart Data table contains a breakdown of the data for the reporting period.
Configuring the chart
Setting the reporting period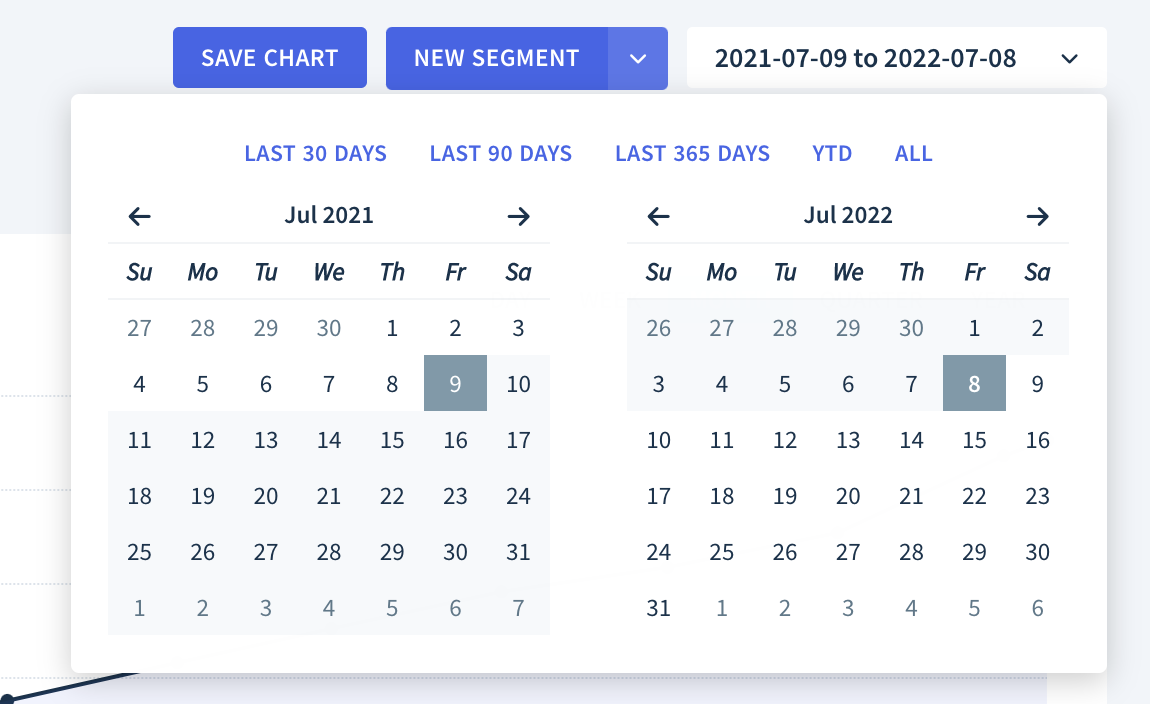 Pick a start and end date using the date range drop-down or select from one of the presets available: Last 30 Days, Last 90 Days, Last 365 Days, YTD (year-to-date), or All (data available).
Changing the graph type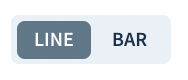 Select the type of graph you would like to see, either Line or Bar.
Zeroing the Y-axis
By default, ChartMogul chooses a range for the Y-axis that best visualizes the metric for the reporting period you've selected. Click the Zero Y-axis icon to have ChartMogul plot the metric relative to zero.
Adding a filter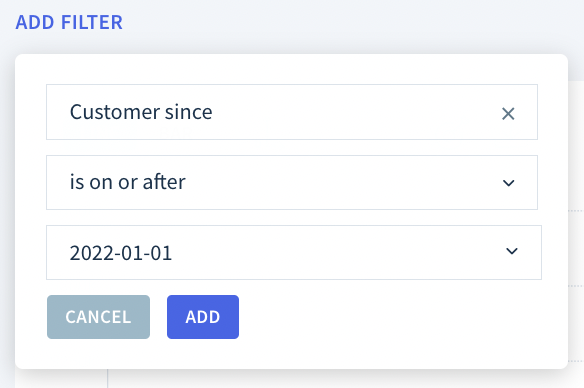 Filters allow you to focus your analysis on a subset of your subscription data, for example, looking at MRR growth for an individual plan. They're easy to use:
Click ADD A FILTER.
Select an attribute.
Choose an operator.
Enter or select an appropriate value for the filter, then click ADD.
To remove a filter, click the filter you previously added, then click REMOVE FILTER.
Learn more about working with filters in ChartMogul.
Segmenting

Segmentation helps you gain deeper insights into your data. Check out our in-depth guide on segmentation, including how to create, compare, and stack segments.
Showing targets
Click the Show Targets icon to include any targets you've established in the graph. Learn how to set goals using targets.
Selecting a measurement interval

Select the major X-axis interval for the graph. Depending on the chart you're working with, you can select between Day, Week, Month, Quarter, and Year. A smaller, more frequent interval (e.g., day) increases the resolution of (the number of data points plotted on) the graph.
The measurement interval is used in conjunction with the reporting period to establish the chart's report intervals.
Saving the chart
You'll need to be on our Scale or Volume plan in order to save and share charts.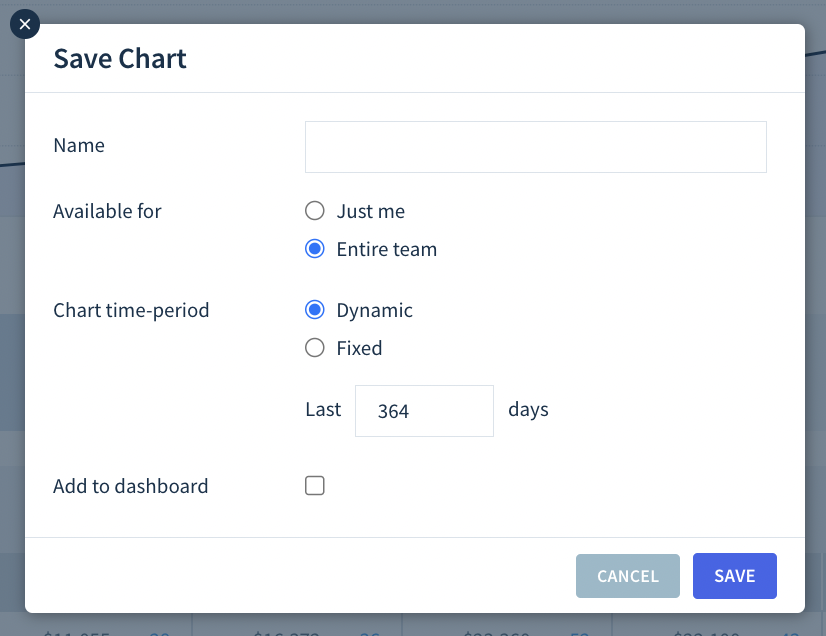 Save your chart for future reference, or share it with your team:
Click SAVE CHART.
Enter a name for your chart in the Name field. We recommend including the metric's name and a brief description of the filter or segment you've used (if any) so it's clear what you're measuring and analyzing.
Select who should see your chart, either Just me or Entire team.
Choose a time period for your chart, either Dynamic (e.g., last 365 days) or Fixed (e.g., January 1, 2021 – December 31, 2021). If you selected Fixed, enter the specific number of days in the field that follows.
If you selected Entire team, add the chart to the dashboard by selecting Add to dashboard.
Finally, click SAVE.
Access your saved charts along with some of our favorites (which we've pre-loaded into your account) by clicking SAVED CHARTS in the Charts sidebar. Re-order saved charts by dragging and dropping them. Update the configuration of (or delete) a saved chart by clicking the Settings icon.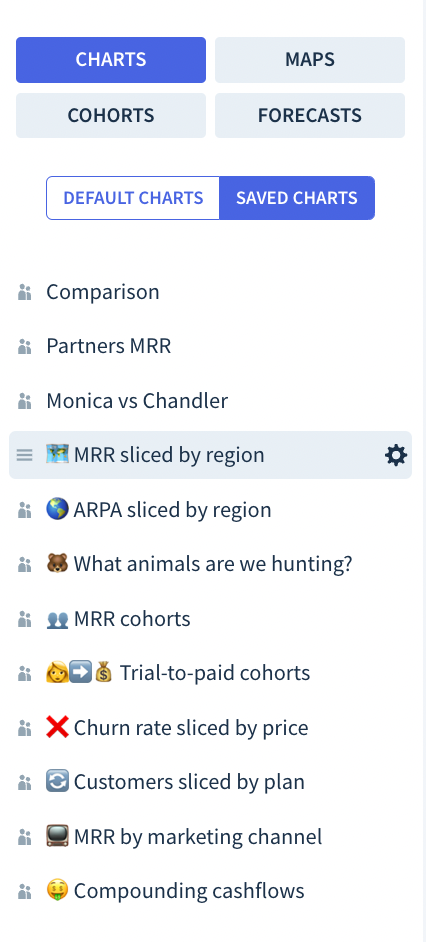 Downloading an image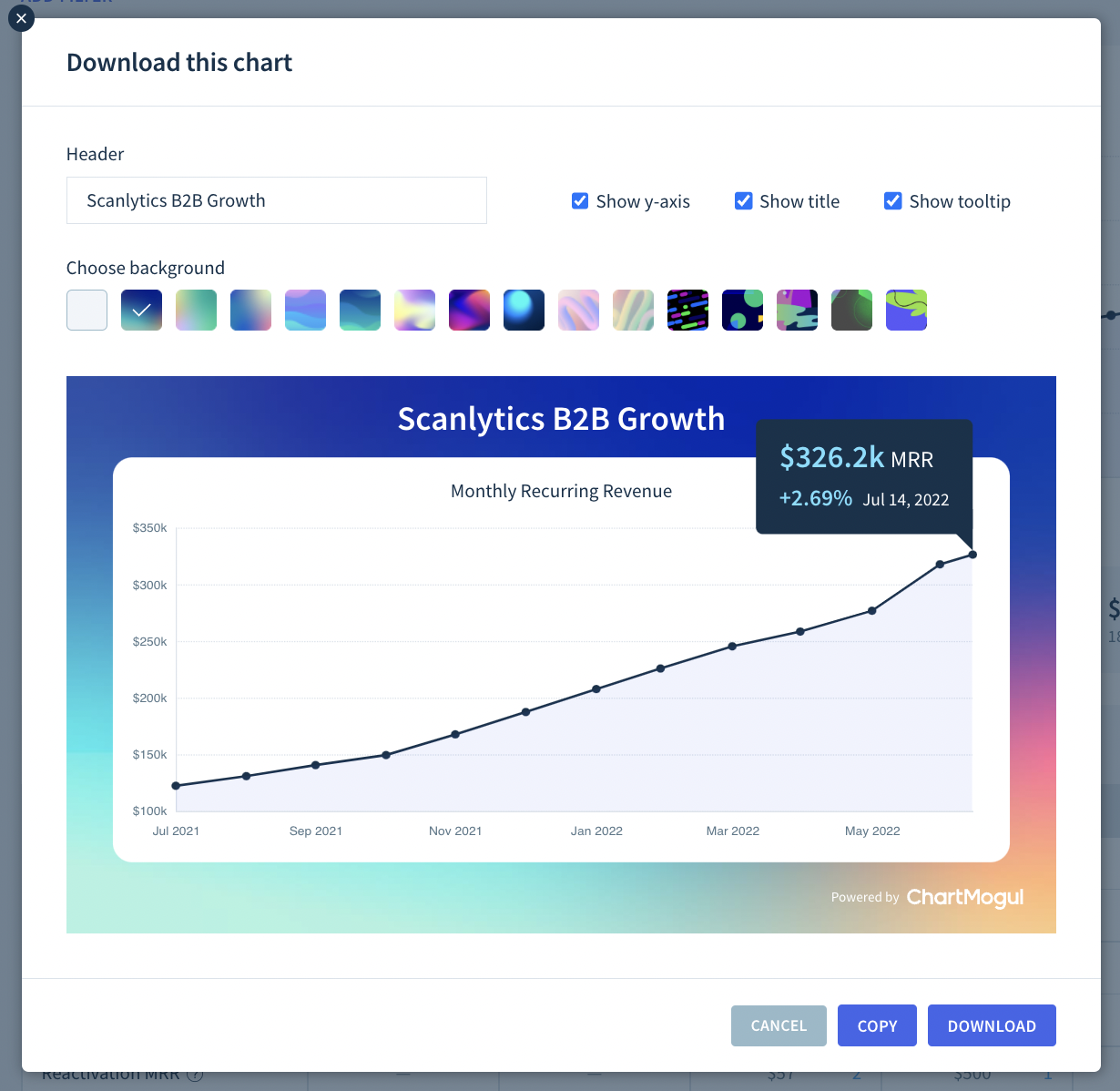 Share your success with your team or social media by downloading an image of the chart.
Click the Download Image

icon.
Choose a background image from the options available.
Include the Y-axis in the image by selecting Show y-axis.
Display the name of the chart above the graph by clicking Show title.
Highlight the most recent metric value by choosing Show tooltip.
Enter a title for the image in the Header field.
Finally, click COPY (to clipboard) or DOWNLOAD (as a PNG file).
Learn about other ways to export your data from ChartMogul.
Working with the chart
There are three main information components to charts in ChartMogul: graph, summary metrics, and data table.
Graph

The graph ChartMogul presents is based on your date range and chart options (e.g., graph type, zero Y-axis, etc.). The graph is interactive — select a point along the line (or a bar) to see your metric on that date and its percent increase (or decrease) from the previous metric value. ChartMogul also highlights the corresponding column of data in Chart Data.
Summary Metrics

Summary metrics show how the metric has changed (increased or decreased) at key intervals in the past year: 30, 60, 180, and 365 days ago.
Chart Data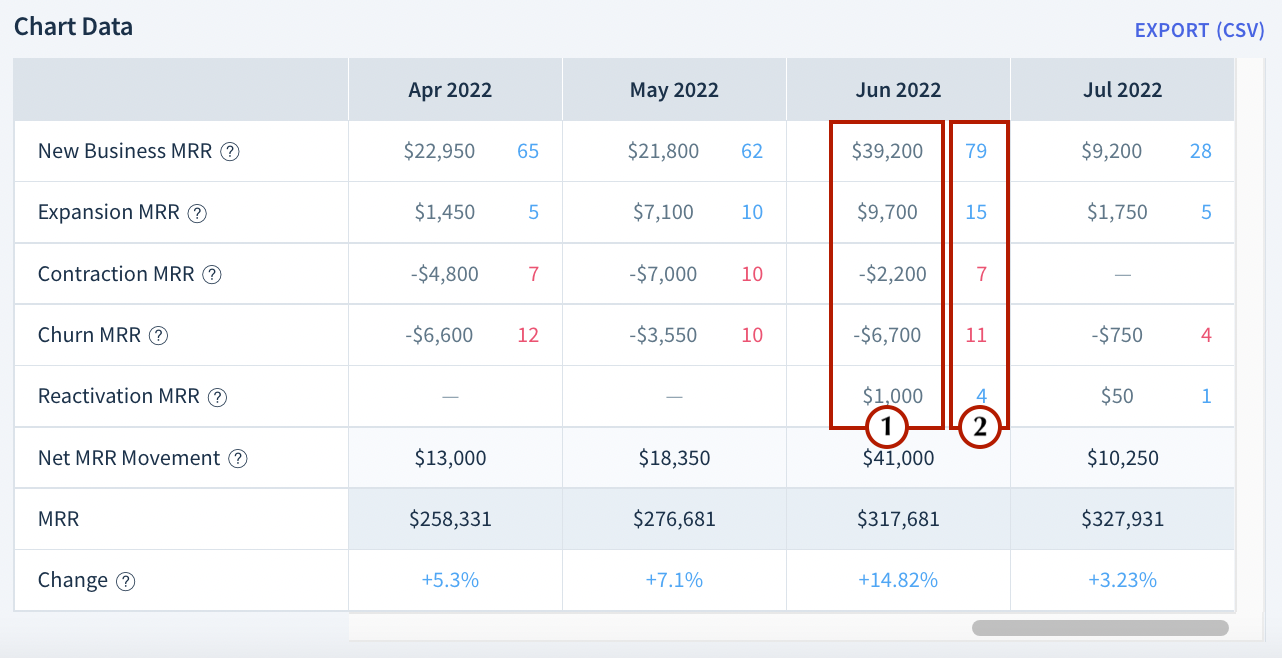 ChartMogul creates MRR movements for subscription events (changes) that increase or decrease the subscription's calculated MRR. For most charts, Chart Data provides a breakdown of your metric by MRR movement type. ChartMogul lists the

total MRR and the

number of activities associated with each movement type for each report interval. Learn more about Chart Data.
Next Steps
Check out the Guide section of our help center for articles on specific charts in ChartMogul.
If you're new to ChartMogul, we recommend getting familiar with these charts:
MRR Movements — one of the classic and most iconic SaaS charts, MRR movements breaks down your growth into the five MRR movement types to give you a clearer understanding of where you're gaining (and losing) revenue with new and existing subscribers.
Average Revenue per Account — track the performance of your pricing and sales strategies by analyzing which segment(s) (e.g., region, plan, or industry) has the highest value subscribers.
Customer Churn Rate — managing churn is central to the success of every SaaS business. Customer Churn Rate lets you see (and therefore manage) the rate you're losing subscribers due to cancellation.
Also, check out our Ultimate SaaS Metrics Cheat Sheet and sign up for our SaaS Metrics Refresher weekly email course.