Customer Retention Rate is the percentage or number of customers in a cohort with one or more active subscriptions.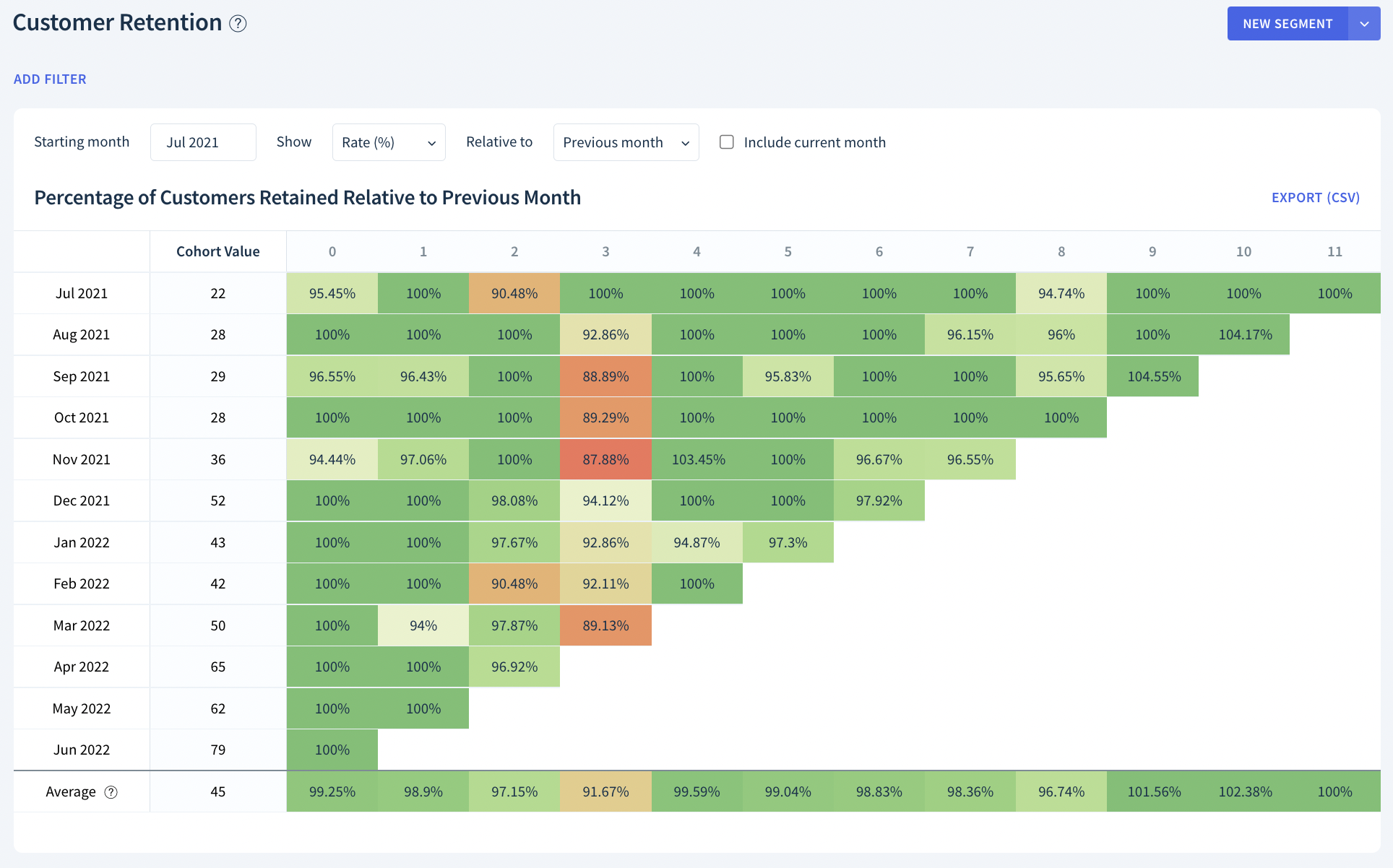 This metric can help you identify points in the customer lifecycle that result in churn, as well as the average number of months a customer will remain with your business after they sign up.
TL;DR
The customer retention cohort analysis groups customers by the month and year they started their first subscription and tracks what percentage continue to have an active subscription (or reactivated their subscription) for each whole calendar month of the cohort's existence.
What is a good customer retention rate?
To grow your SaaS business, a customer retention rate as close to 100% is ideal, meaning that all or nearly all of your customers continue to renew their subscriptions and you, therefore, retain all (or nearly all) of your subscription revenue. Losing customers at even a seemingly low rate, e.g., 5% per month, corresponds to an annual loss of almost half (46%) of the cohort.​
Chart Notes
Customers who begin their first subscription in the same month and year are grouped in the same cohort.
ChartMogul classifies customers who have an active subscription or have reactivated a subscription (they previously canceled) as Active and customers who have canceled all their subscriptions as Cancelled. Learn more about customer and subscription statuses.
Calculation
ChartMogul reports customers as retained (in their cohort) as long as they remain Active. Customers negatively impact the cohort's Customer Retention Rate and number of active customers when they become classified as Cancelled. Conversely, customers positively impact the cohort's retention rate and number of active customers when they continue to have an active subscription or reactivate a previously canceled subscription.
Cohort Table
Cohort Value is the number of customers in the cohort.
The metric displayed in each table cell is either the percentage change of the cohort's Customer Retention Rate (relative to the previous month or the starting month of the analysis) or the number of active customers (depending on whether you've selected Rate % or Customers from the Show drop-down).
Select any cell with a value that has changed from the previous month to view the MRR movements for that month.
Next Steps